Bayside Bowl Officially Re-Opens on Saturday!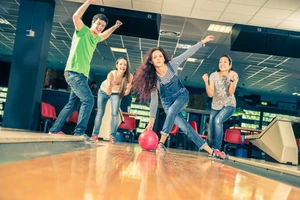 After not being able to get your bowling, live music and food itches scratched simultaneously for what seems like years, Bayside Bowl is finally making a triumphant return this Saturday, March 18th!
With roughly $2.4m in expansions, the new building both looks and feels more luxurious. WCSH 6 reports that expansions include new lanes, an arcade, a rooftop bar, and a mezzanine that overlooks the lanes. Being one of the only ones in town, we give the rooftop bar a big, fat WCYY stamp of approval. (Come to think of it, we should totally have that stamp made…)
Bayside Bowl was already one of the coolest places in town, and these expansions only make it sound cooler. For those not privy, it's not just a bowling alley, restaurant and bar, either – it's also one of my favorite places to go and see live music downtown. They have a great stage and sound system, and plays host to everything from larger local productions to local bands just getting their start.
Speaking of music, the venue will be having Aloud, Cape Canons, and They Call Me Legion perform on Saturday, in celebration of their opening night. Music is free, and will start at 8:30. Watch WCSH's video of today's big ribbon cutting ceremony below:

Visit Bayside Bowl's website for more information on upcoming shows and events. From everyone here on Team WCYY, welcome back! Now to put my gloves on and try that rooftop bar…