Take Your Labor Day Weekend Fishing Plans to… a Mountain Top?
Labor Day Weekend if finally here! At last, those glorious unofficial last three days of summer to go out, hit the beach, have a cookout and maybe even brave the ocean! Well, we do live in Maine, so maybe no the ocean…
There are plenty of awesome things to do over the next three days, but what if you want to mix and match? Well if you're looking for a great view AND a fishing trip, we've got you covered.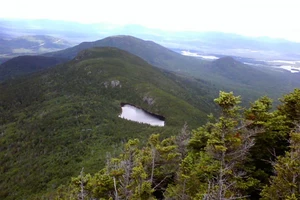 As recently posted by Maine.gov, there are some spectacular mountain top ponds in our fine little state. For example, Horns Pond, as shown to the right, which is located in Franklin County on top of Bigelow Mountain. It's only a 4 mile hike, and once atop the mountain, you'll have a crack at the few hundred trout that are backpacked in every year by the Department of Island Fisheries and WIldlife.
According to Maine.gov, another pond worth checking out is Speck Pond in Oxford County. This pond is located in Grafton Township and is accessible from the Appalachian Trail, making it a cool spot for hikers making their way along the path. This lake is also annually re-filled with fish, brook trout to be specific.
So there you have it! A couple of our recommendations for a hike/fishing trip combo for your long weekend! However, if you're like us here at CYY, you might just be eyeing your couch for the next few days…