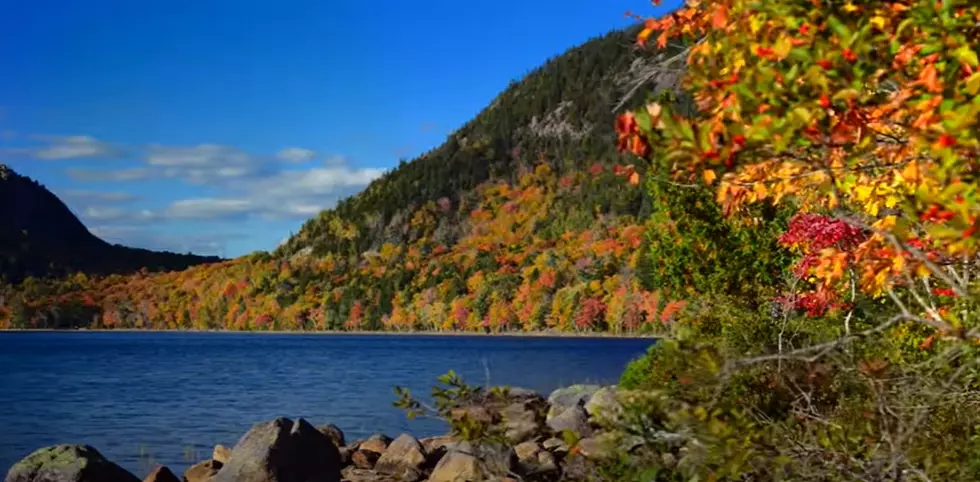 50 Stunning Photos Show Acadia National Park's Beauty in the Fall Season
Expedia via Youtube
Maine is known to have tourists flocking in the summertime but we are also a hotspot destination for leaf peeping. Mountain peaks, vast fields, deep forests, beautiful lakes, and rocky shores make for the perfect scenic backdrops to bask in the best views of fall foliage.
Acadia National Park
If you're looking for the ultimate Maine trip to go leaf peeping and see our diverse landscapes sprinkled with reds, oranges, yellows, and greens, then you need to head over to Acadia National Park. If not for the autumn colors, at least just go because it was ranked top 10 by National Geographic for most popular national parks.
If you're going for the fall views, then your best bet is to go in October when the foliage times are peaking. The national park boasts diverse landscapes, from the evergreens and hardwood trees of Northern Maine to the gorgeous contrast of the autumn colors against the blue ocean.
What to do in Acadia National Park
There are countless options for optimizing a trip to Acadia, from the 27-mile scenic Park Loop Road with panoramic overviews to hundreds of hikes, as well as strolls through the trees on the Carriage Roads and a trip up Cadillac Mountain for the ultimate viewpoint.
There are scenic overlooks and hikes for all ability levels and various ways to get around, from driving, hiking, walking, biking, whatever you please.
Now I do know that it's not always the easiest trip to spend a weekend in Northern Maine and some of us don't have the time or it's too far away, so I've gone ahead and compiled a list of photos you can scroll through to get a feeling of what the views are like in Acadia in the fall.
This way, you don't even need to leave your seat to go leaf peeping in Maine's famous national park.
A huge shoutout to Expedia, Austin Shuver, and Nigel Harper on YouTube for the scenic videos of Acadia I used to gather these images.
Now sit back, relax, and enjoy the autumn sights of Acadia National Park in the fall season.
50 Stunning Photos Show Acadia National Park's Beauty in the Fall Season
Acadia National Park boasts stunning views year-round, especially during the leaf-peeping months of Autumn. Here are the views you experience in Acadia during the fall season:
20 Easy Hikes for Mainers Who Don't Actually Like Hiking
Best Leaf Peeping Spots for Maine Fall Foliage
Maine offers a killer fall that's hard to beat. Here's a list of some iconic places in Maine for leaf peepin' this season.