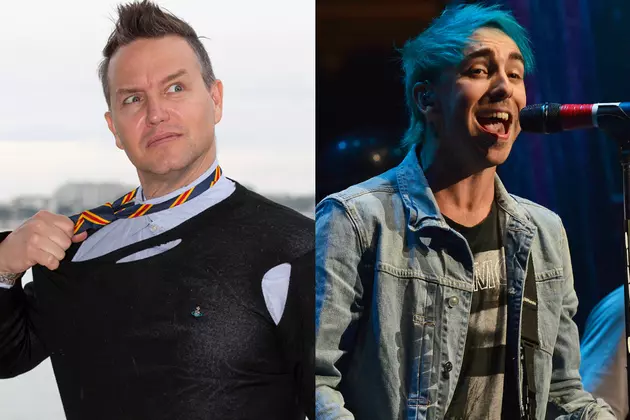 Blink-182 + All Time Low Frontmen Launch New Band, Release First Single
Didier Baverel / Duane Prokop, Getty Images
Two of pop-punk's biggest names have joined forces to create a new band, Simple Creatures. Blink-182 vocalist / bassist Mark Hoppus and All Time Low frontman Alex Gaskarth just launched the new project, debuting a new song called "Drug."
As leaders of their generation's respective pop-punk explosions, Hoppus and Gaskarth have high expectations to match. The debut single from Simple Creatures touches on catchy pop-punk sensibilities, but relies on subtle electronic leads and thick radio production.
Simple Creatures teamed up with Mass Motion and Ian Williams to create their animated lyric video for "Drug." Listeners from the era of drive-in movie theaters may be reminded of those old "Let's all go to the lobby" cartoons when watching "Drug," as anthropomorphic pills dance menacingly on the screen.
"Hi. We are Simple Creatures. We just woke up from a very long sleep. We have so much to tell you, but for the moment, all we can say is that we are glad you are here," the band posted all over social media. "We made music for you ... It is Drug."
Simple Creatures' debut EP is expected to be released in March. For now, fans can download the new song here.
2019's Most Anticipated Hard Rock + Metal Albums