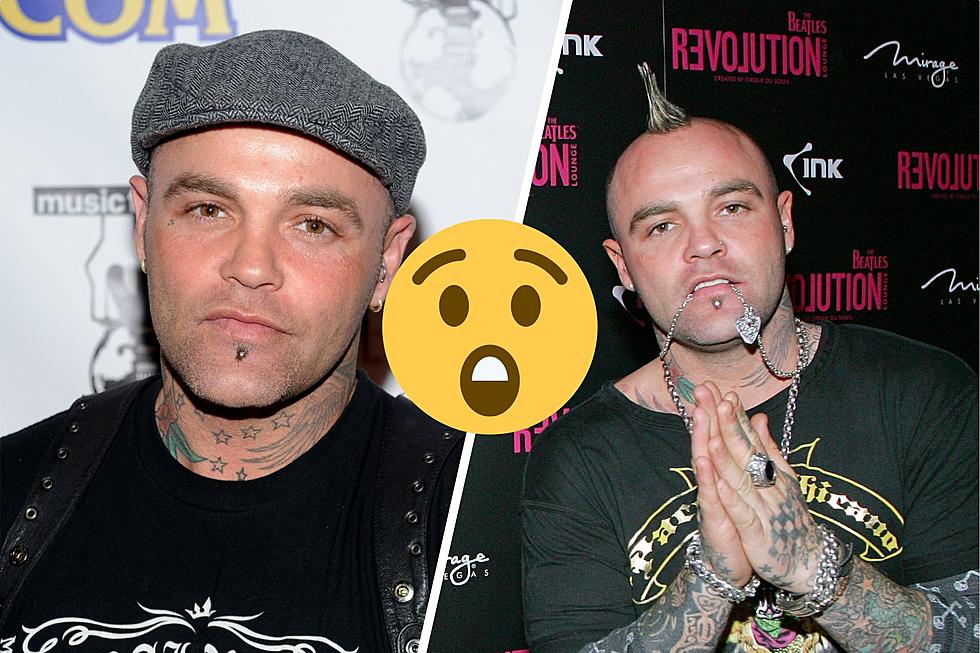 Crazy Town Vocalist Shifty Shellshock Arrested for DUI – Report
Frazer Harrison, Getty Images / Ethan Miller, Getty Images / Canva
Amidst Californian rap-rock group Crazy Town being removed from (hed)p.e.'s "Nu-Metal Madness 2" U.S. tour due to intra-band fighting, singer Shifty Shellshock (real name: Seth Brooks Binzer) has been arrested for DUI, TMZ reports.
Specifically, the incident occurred last Tuesday (April 25) in Myrtle Beach, South Carolina.
Two days earlier (April 23), Shellshock and current co-vocalist Bobby Reeves got into a brawl following the band's set at the Boathouse Waterway Bar & Grill in Myrtle Beach. According to ThePRP, the altercation stemmed from Shellshock missing the performance – leaving Reeves to front the concert and remark during the show, "I'm so mad at fucking Shifty right now. I'm trying hard" – as well as a dispute over money.
Crazy Town was subsequently removed from (hed)p.e.'s tour.
Read More: Fistfight Erupts Between Crazy Town Members After Shifty Shellshock Misses Show
As Consequence also notes, Shellshock was arrested on April 25 after "police received a call about a possible drunk driver in a black SUV who seemed to be falling asleep at the wheel." Consequence also obtained the official police report (prepared by Officer C.J. Contino), which reads:
On April 25th, 2023, at approximately 1330 hours I responded to the area of 33d Ave N and Kings Kwy in reference to a possible drunk driver. A be on the lookout (BOLO) came over from North Myrtle Beach about a black in color SUV, with a California tag, traveling into the city limits of myrtle beach, supposedly, all over the road failing to maintain its lane of travel. A short time later, myrtle beach dispatch received a call about a black in color SUV, with a California tag, in the area of 82nd Pky and Kings Hwy.

The caller was stating that the driver was falling asleep behind the wheel at the red light and, while driving, the vehicle was having trouble staying in its lane of travel. Officer Mackin was first to locate the vehicle when the call came in. Officer Mackin stated he observed the vehicle driving and showed signs of the driver being impaired. I spoke to the offender as he was in the driver seat at the time of the traffic stop and nobody else was in the vehicle. The offender had very lethargic movement and slurred speech.

Due to the offender showing signs of impairment and officer Mackin's observation, I asked the offender to take the standard field sobriety test (SFST). The offender stated he would take the test. At the conclusion of the test there were enough visible clues to indicate the offender was impaired while driving. He was placed under arrest for driving under the influence and he was transported to the Myrtle Beach jail.
Consequence also mentions that Shellshock's corresponding mugshot "describes [his] blood-alcohol level and status as 'less than .10, second offense.'"
Unfortunately, NME clarifies, Shellshock has a history of substance abuse problems and assault violations. For instance, he was arrested – and later released – for a DUI in Los Angeles back in July 2022. Ten years earlier, he was "convicted of cocaine possession and domestic violence charges against his girlfriend."
Of course, his battles with addiction have been showcased on TV shows such as Celebrity Rehab and Sober House, too.
If you or someone you know is struggling with drug and/or alcohol dependence, help is available through the Substance Abuse and Mental Health Services Administration website. To speak to someone on the phone, dial 1-800-622-HELP (1-800-622-4357) or send a text message to 1-800-487-4889.
8 Musical Groups That Influenced Nu-Metal
We can either thank them, or blame them.