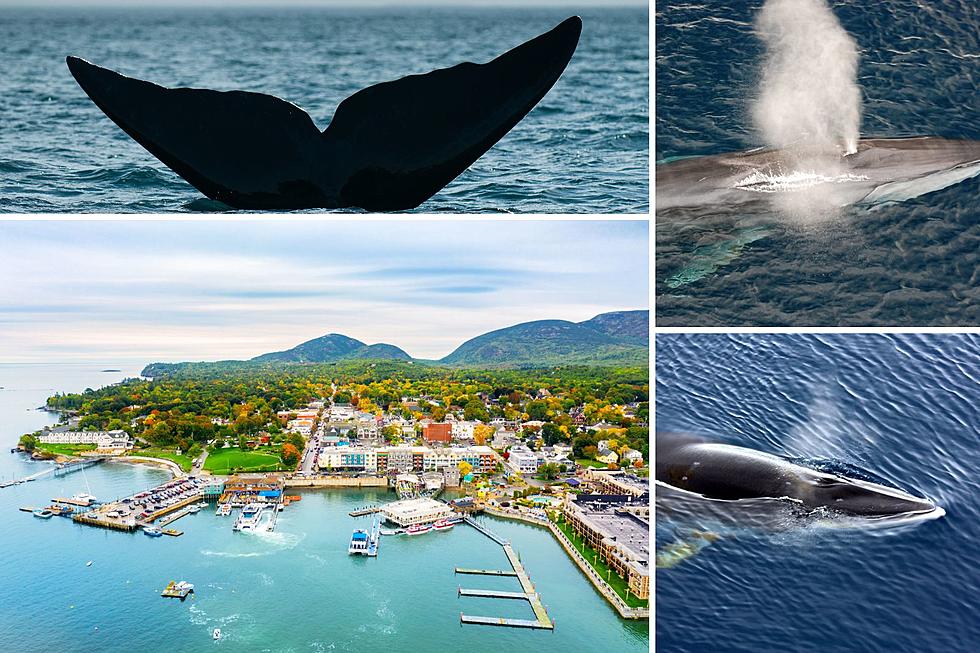 Bar Harbor, Maine, Has Some of the Best Whale Watching in the US
Getty Images
One of Maine's most popular tourist destinations is being lauded for an iconic attraction.
Bar Harbor, known for its beauty, shopping, and delicious local fare, was recently included on a list, but not for any of these reasons. Popular travel site Attractions of America included the Downeast harbor town as one of the best locations in the country to whale watch.
Bar Harbor was one of 10 destinations in the country to be selected, and one of two in New England, the other being Cape Cod in Massachusetts. You can see the whole list here.
It's wonderful to have Maine represented on this list. We Mainers certainly are prideful about our state and its natural wonder. That includes these majestic mammals that live off the coast. Whales are a wonderful part of Maine's animal kingdom.
Here is a little of what Attractions of America had to say about Bar Harbor's inclusion.
 In the middle of April, you are bound to see hungry finback, right, and minke whales in the cooler waters about 20 miles off the coast of Maine. Since the waters are full of plankton, copepods, and fish, the whales have a field day until October, when the whales head south for warmer water.
As the article mentions, the whale variety is solid off the coast of Bar Harbor. The North Atlantic right whale, one of the most endangered large whale breeds, can be found in these grounds. They can grow to over 50 feet and weigh as much as a fully loaded 737. They are an absolute sight to see.
The minke whale is also found in these waters. These gentle giants are much less endangered than the right whale, and also much smaller. Minke whales can grow up to 35 feet and only weigh up to a measly 20,000 lbs.
The finback is the other whale species the article covers. The long and sleek mammal is listed in the vulnerable category, so the population is closely monitored. The finbacks can be found across the globe, including off of Bar Harbor. These beasts can grow up to 95 feet long and weigh nearly 80 tons. That's the equivalent of seven school buses.
It's important to note different times of the tourist year will yield different results. It mostly depends on migratory habits and feeding patterns. However, the article does give some good tips on when those are. Plus, they include local charters that can help get folks started.
Are you ready to see some of nature's most revered creations? Lucky for us, we have one of the best spots in the country to do it right in our backyard.
20 Easy Hikes for Mainers Who Don't Actually Like Hiking
The 20 Most Visted Maine State Parks in 2022