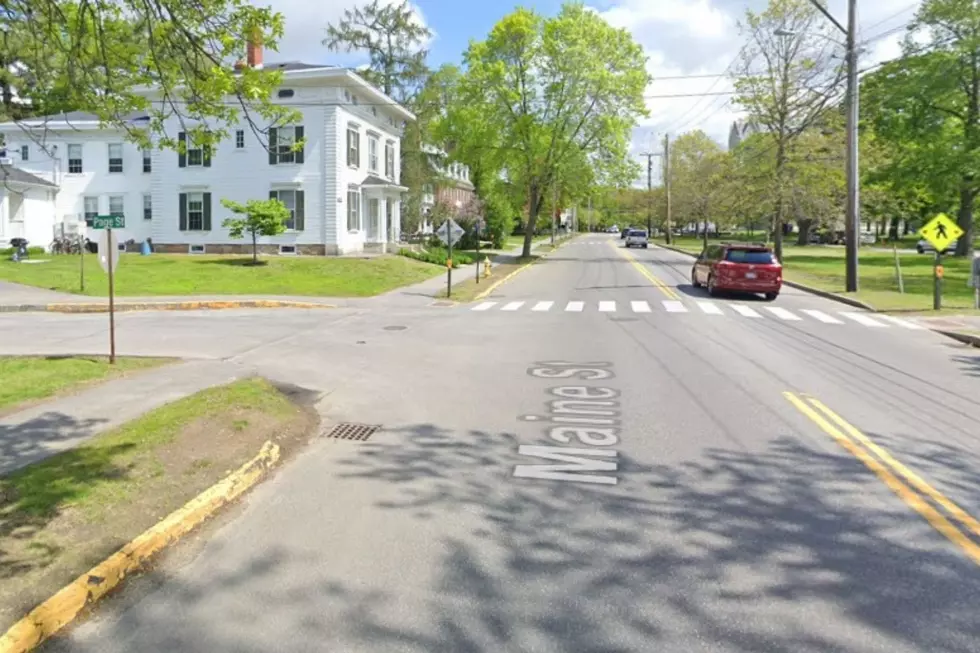 Disaster Almost Struck Bowdoin College in Brunswick, Maine Last Night
Google Maps
Is it me or are there way too many dimly-lit roads? Not just in Maine, but across New England and possibly even the country.
Because that mixed with the crappy, rainy weather last night almost caused a massive disaster on the Bowdoin College campus in Brunswick, Maine last night and almost ruined three lives.
It's not even that I was driving like an absolute idiot -- it actually couldn't have been more opposite. I had just taken a left at the set of lights at the intersection of McKeen Street and Maine Street.
And because the weather was miserable -- dark, rainy, and everyone's stupidly bright headlights were causing some glare because of all the rain, I was driving even slower than normal as I took that left turn onto Maine.
As I slowly approached the crosswalk on Maine that leads from Page Street onto a campus walkway, I noticed one person (dressed in dark clothes, naturally) take their last few steps across the crosswalk and onto the campus walkway.
I was still a good 10-20 feet away from the crosswalk as I turned my attention from the right side of it to watch the person continue along the campus walkway and back to the left side of the crosswalk to make sure no one was coming. And since all I saw were headlights shining at me, I cruised up to the crosswalk.
And it was when the crosswalk was halfway under my truck that I made eye contact with two students in the crosswalk to my left crossing the street just feet away from me.
You know that real nervous feeling you get when you feel like something is about to happen like driving by a police officer going 20 mph over the speed limit or someone driving in front of you randomly jamming their brakes to a full stop?
That's the type of chest tightening I got seeing them maybe 5-7 feet away from my truck as I cruised right over the crosswalk. Thankfully, it was just chest tightening and nothing bad actually happened. But because I'm neurotic as hell, I clearly played out an entire "what if something bad happened" scenario out in my head in full.
So, to those two students in the crosswalk last night -- I'm so sorry. I promise I looked for you and wasn't driving like a wreckless sucknugget, I just couldn't see you between your dark clothing, the bright headlights facing me from the opposite side of the road, and the fact that for a college campus, that area is lit like absolute crap.
Here's hoping after you crossed the street, you went on to make some terrible but hilarious Sunday Funday campus-life mistakes.
30 Most Dangerous Sections of Road in Maine
There are plenty of sections of road that you have come across here in the State of Maine that have you gripping the steering wheel a little more than other sections. Here is the list of the Most Dangerous Roads of Maine from the past three years of crashes, injuries, and fatalities from the Maine Department of Transportation. Do you live on one of these roads?
READ ON: See the States Where People Live the Longest
Read on to learn the average life expectancy in each state.