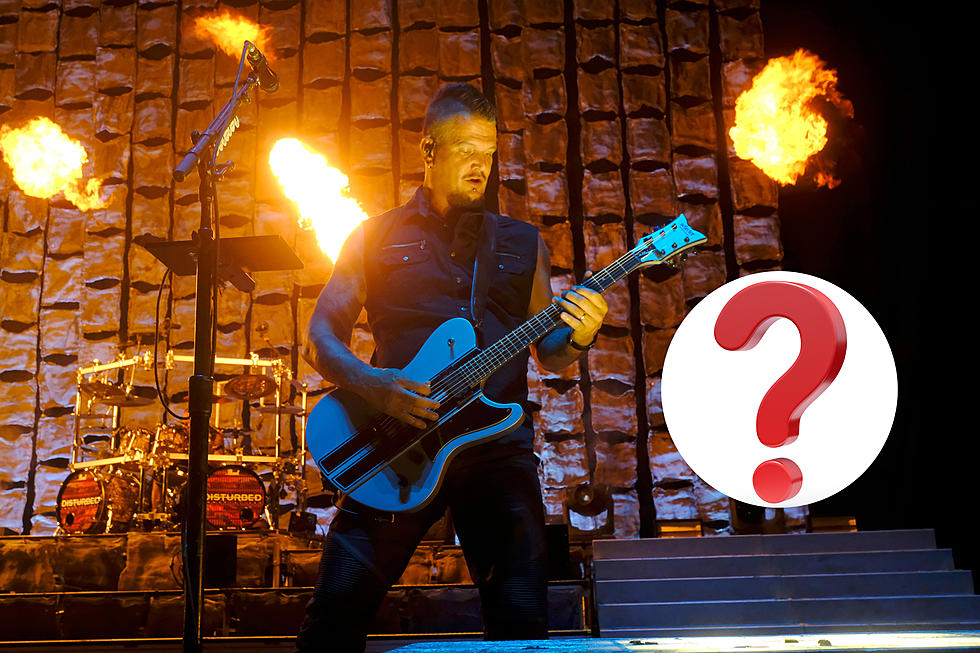 Disturbed's Dan Donegan Once Considered Auditioning Future Whitesnake Member for Singer Spot
Frazer Harrison, Getty Images / Getty Images
It's hard to imagine Disturbed with anyone other than David Draiman fronting the band, but Disturbed's Dan Donegan revealed a rather well-known guitarist was once under consideration for their vacant vocalist spot before they settled on the powerful Draiman to front the band. That musician was Joel Hoekstra, who has played with such acts as Night Ranger, Whitesnake, Trans-Siberian Orchestra and Cher while also leading his own projects.
The revelation came about as Donegan was sifting through some of the band's memorabilia and came across many of the notes he had kept of different singer's contact information when preparing to audition for a new singer. In his social media posting, he shared a wealth of images of assorted posted notes, while pointing out both David Draiman's note and one that he had to reach out to Hoekstra. But by his account accompanying the notes, it appears as though he never got to the point of reaching out to the future star.
"I was digging through Disturbed memorabilia & found these post-it notes when we were auditioning singers back in 1996! As in the note, I left David a message on Aug 3 & 4. We talked later that Sunday night on the phone & hit it off. I invited him 2 come out 2 our rehearsal the next day! He wanted to hear our originals & within minutes he started improvising a melody over the riff of a song we were working on," writes Donegan, then asking if fans know the song that they worked on.
READ MORE: Wait! David Draiman Had Hair and 'Big-Ass Sideburns'
He continued, "Also something cool in the notes that I circled, a very talented guy I knew in the neighborhood @joelhoekstra13. Joel sang in another local project for a moment but his guitar playing was unlike anything I've seen! A child prodigy as some of you may know Joel from going on to play guitar for @nightranger, Rock of Ages, @whitesnake, @cher @transsiberianorchestra & a couple others. I'd say we all made pretty great decisions in all our careers. I'm still friends with Joel & I'm not sure if I ever told him he was on my radar. But truth be told the world needs him on guitar."
As for why he may not have reached out, Donegan explains, "After David singing with us on Aug 5, 1996 we knew he was our guy! We started writing songs, played our first show together in just over 3 months with our friends in a Black Sabbath tribute band, and then three years later signed a major label deal with Giant/Reprise @lkjacobson & part of the @warnerrecords family. What a crazy ride! I saved everything btw."
Hoekstra saw Donegan's post and chimed in with his thoughts on the fact that he was being considered by the guitarist. "Isn't that insane, dude. Good thing it didn't happen! I could have ruined everything. Haha! Truth! So glad things went well for me and you guys went on to be superstars! Big love, brother," remarked the guitarist.
In addition to his stints with Night Ranger, Whitesnake and Cher, Hoekstra was also part of the Rock of Ages Broadway Cast recording, and has lent his talents to records from Amy Lee, Jeff Scott Soto, Michael Sweet and Trans-Siberian Orchestra among others. He's also recorded three solo albums and most recently has fronted his band Joel Hoekstra's 13 for a pair of records, the most recent of which was 2021's Running Games.
The origins of Disturbed started in 1994 when Donegan, drummer Mike Wengren and bassist Steve "Fuzz" Kmak were part of a group called Brawl. After singer Erich Awalt left the band, they needed to find a new singer and upon adding Draiman to the group in 1996, they eventually changed their name to Disturbed. The group first signed with Giant Records, who then teamed with major label Reprise to release The Sickness album on March 7, 2000.
The band has released eight studio albums total, with the most recent being 2022's Divisive album that features the songs "Hey You" and "Bad Man," as well as a guest turn from Heart's Ann Wilson on "Don't Tell Me."
Disturbed will return to the road next month in support of the album for a spring tour. Be sure to get your tickets here.
16 Rockers With Iconic Facial Piercings, Then and Now