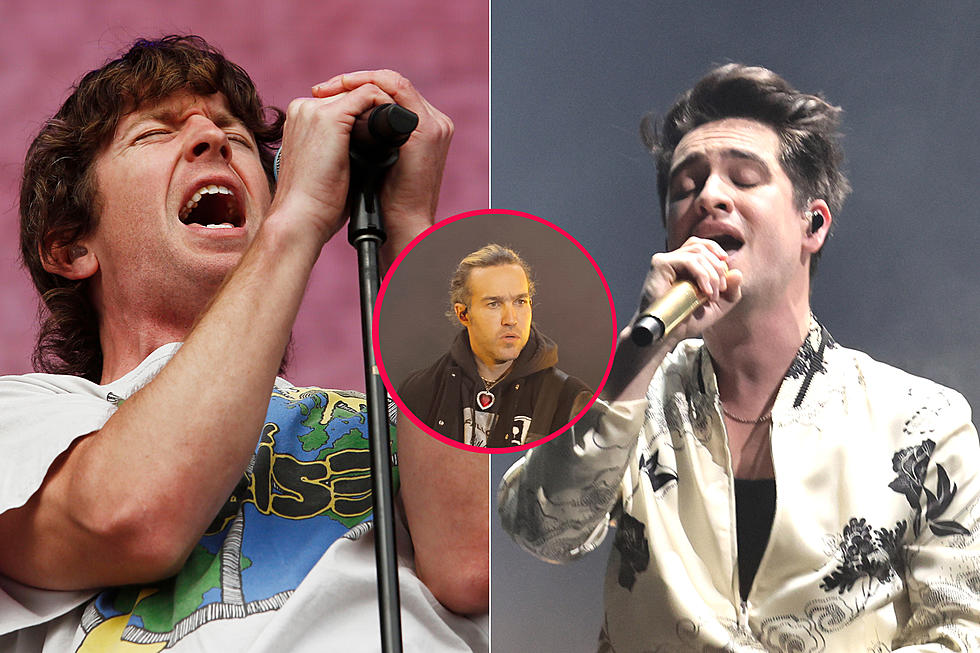 Fall Out Boy's Pete Wentz Compares Turnstile's 'Magic' to Early Panic! at the Disco
Marcelo Hernandez / Theo Wargo / Kevin Winter, Getty Images
Turnstile have been earning praise off their Glow On album over the past couple of years, emerging as one of hard rock's buzz bands, but watching their ascent felt a little familiar for Fall Out Boy's Pete Wentz. In fact, the musician likened seeing them in their current state to what it was like watching Panic! at the Disco's rise at the start of their career.
Wentz played a key role in bringing Panic! at the Disco to the masses, speaking about how taken he was with the group upon first hearing their music. He told Tuna on Toast podcast host Stryker (as heard below), "It was great. It was fantastic and I needed to sign this band. I didn't even have a record label and that was the inception of all of that. Then we drove to Vegas, me and Dan, a guy who worked with us, we drove to Vegas and we saw them practice in a practice space. They really couldn't play some of the songs because there were just dance music moments and they were like, 'We don't really know how to play this.'"
Wentz continued, "They had the rawness and they had a magical thing there. You know when there's a band or an artist and there's just a thing. It's like with Turnstile [today], there's just a thing. You see them live and there's something with those guys onstage doing that thing, and I think another band could sound very similar, but there's a magic dust there."
Turnstile really started connecting with critics on their 2018 sophomore set Time & Space, then took a huge leap forward with the masses on their third album, 2021's Glow On. That included a pair of Grammy nominations.
Panic! at the Disco initially impacted with 2005's A Fever You Can't Sweat Out, receiving critical accolades and adding a MTV Video of the Year trophy for their "I Write Sins Not Tragedies" video.
Wentz was also quick to point out the importance of support for young bands. "[Panic's start] felt like Fall Out Boy when we were getting all those rejection letters," he recalled. "There were only a few bands that took us under their wing. Less Than Jake did, this band called Punchline did. And we always had these bands that took us out and I always liked the spirit of that. And to me when I saw hip-hop, there was always like this communal spirit and it just felt like a culture and I thought, why couldn't we do that?" So Fall Out Boy welcomed Panic!, helping to bring the band to audiences in their early days.
Since those early days, Panic! at the Disco has evolved to where Urie is the sole remaining original member. In late January, Urie announced that he is moving forward without the Panic! at the Disco moniker after one last run later this year.
READ MORE: Fans React to Brendon Urie Breaking Up Panic! at the Disco
Fall Out Boy, meanwhile, have taken breaks over the course of their career, but are back with their latest album, So Much (for) Stardust. The album arrives March 24. You can also catch the band on tour. Get your tickets here.
Fall Out Boy's Pete Wentz Guests on the Tuna On Toast With Stryker Podcast
Most Anticipated Rock + Metal Albums of 2023
2023 is looking good for rock and metal albums already.