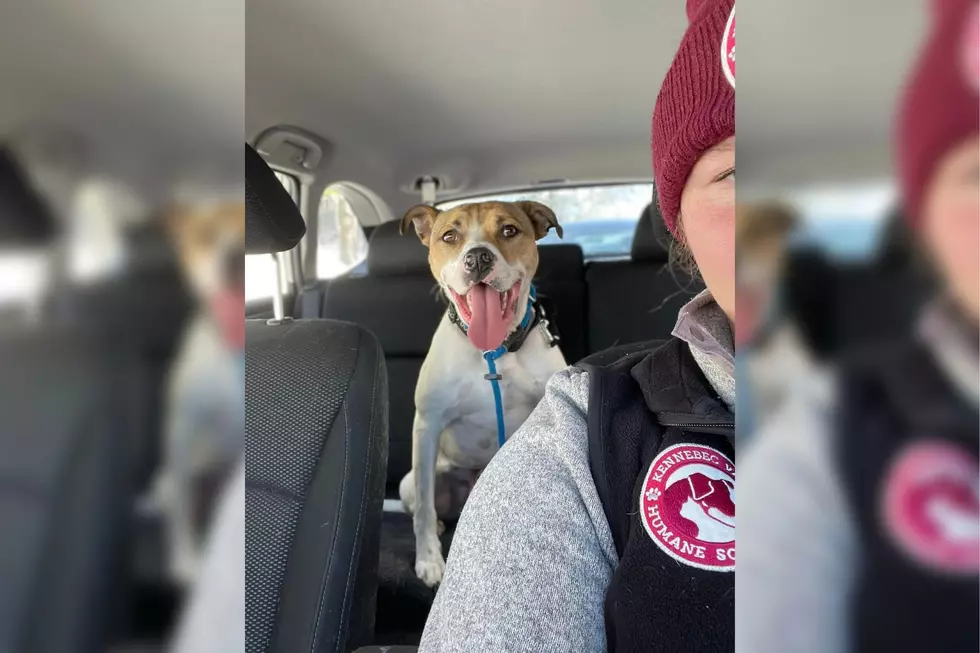 'Happy-Go-Lucky' Maine Dog Waiting for a Forever Home for Over 76 Days
Kennebec Valley Humane Society via Facebook
There's a good boy out there who has been waiting way too long to find his forever home.
Meet Chip.
Folks, I want you to look at this face and try and explain to me why Chip doesn't have a home. He looks like the jolliest fella on the street. He is going to make a family so much more wholesome.
Chip is currently residing at the Kennebec Valley Humane Society, awaiting that family to stop by. He is a nearly two-year-old terrier-American Pitbull mix. He is a large boy known for have a fun personality.
According to the Humane Society, Chip is very easy to fall in love with. He's loaded with energy and loves to play. However, he also is a cuddle machine when he tuckers out. Talk about the best of both worlds.
Chip would be happy to enjoy a house with another dog, as it is said that he gets along with a few other dogs at the shelter. However, Chip will be passing on a house with cats. The humane society also suggests he goes to a home with older children, since the Chipster is still working on his excitable behavior.
Every shelter animal deserves a forever home, and Chip is long overdue. According to the Kennebec Valley Humane Society, it has been nearly three months of shelter living for this amazing dog. Thats is quite a lot for a doggo that is still so young.
Let's help get Jasper that forever home he has been waiting patiently for. The easiest thing you can do is share the Kennebec Valley Humane Society Facebook post to help spread the word. Or maybe you'll even consider adopting this sweet boy. As someone who has adopted numerous shelter pets, I can easily say you will be better for it. And the pet will love you unconditionally, forever.
Good luck, Chip. I hope you have a home soon.
25 Endangered Animals in Maine
40 Pet Names For People That Love Maine
Perfect Maine inspired names for your furry new family member.