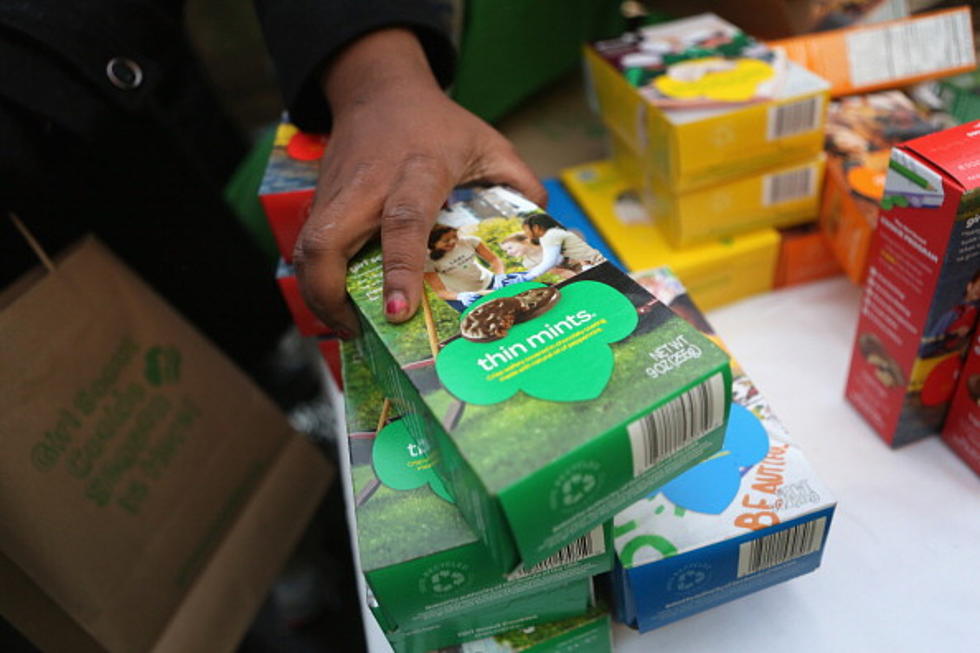 Incredible Eight-Year-Old Crushes Maine Record for Girl Scout Cookies Sold
Getty Images
Meet Liliana (her friends call her Lily) from Ellsworth, Maine! She might look like your average eight-year-old girl scout, but trust us when we say that Lily is a businesswoman. This chick is heading places, and I'm not just talking about the fourth grade.
According to girlscoutsofmaine.org, before cookie-selling season started, Lily took a meeting with her business manager (her mom Priscilla) to go over their strategy for the upcoming season. Lily set a reasonable goal for herself, which was to sell 502 boxes in the initial selling period between February 1-28, 2023. When she was on pace to significantly surpass her original goal, her mom asked if she wanted to kick it up a notch, and she did. Her new goal was 1,0002, and she quickly crushed that goal, too. Lily ended up selling 2,222 boxes. Is that number a coincidence? I think not. Lily based her next goal around her favorite number, which is 2. This makes Lily the new record-holder for selling the most boxes of girl scout cookies in the state of Maine!
So, what's her strategy? According to Lily, good old-fashioned door-to-door selling is still the way to go. Lily braved the frigid February every day after school until it got dark out. Not everyone greeted Lily with kind smiles and open wallets. She actually had someone say "I HATE girl scout cookies!" and slam the door. Let me just say, that person is no friend of mine.
Lily is a tough and independent cookie (pun intended), and deserves all the credit for her incredible selling season. She and her mom made sure to shout out the generous community of Ellsworth, Maine, who helped Lily surpass her goals in such a huge way.
So what's next for Liliana? Next year, she hopes to once again crush the state record, and has set a personal goal of 4,000 boxes. Reach for the stars, girl!
50 Maine Restaurants to Try in 2023
Thanks to our great listeners we were able to compile a list of many of Maine's great restaurants that Mainers want to try in 2023.
These great spots can be found across the state and waiting for you to give them a try.
How many have you been to? How many would you like to try for the first time?
New Hampshire and Maine Goodwill Stores Do Not Accept These 21 Items
Can you donate it? Check this list before you bring it to your local Goodwill Store.