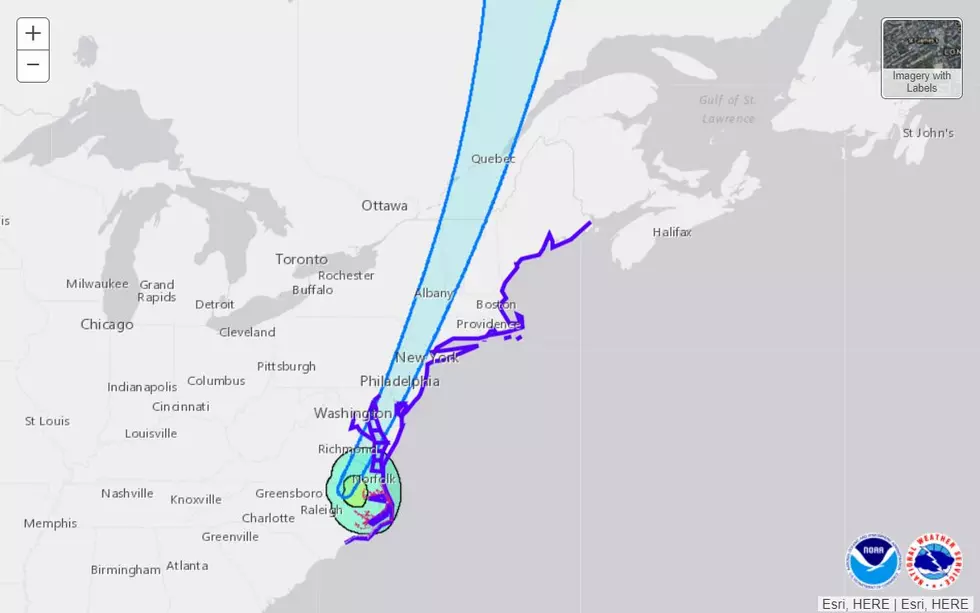 Isaias is Forecast To Pass to Maine's West Tonight, Lowering Threat
National Weather Service
Much of Maine is under a tropical storm warning from the National Weather Service until further notice as of this writing as tropical storm Isaias has made landfall and will work its way toward Maine.
The good news for us is that the storm is currently tracking to our west, passing over Vermont. That will lower the amount of rain we will receive and winds are expected to remain at speeds that will lessen and damage and power outages.
Another thing that lessens the threat to Maine is that Isaias is a fast moving storm. According to News Center Maine meteorologist Ryan Breton, it's so fast that the rain potential has been dropped back a bit to an inch or two for much of Maine, less at the coast. The strongest wind gusts will be 45-55 mph which does create the potential for power outages, but those wind speeds will only be around between 10 p.m. and midnight and then the storm starts to move out. There is a slight chance of some tornado warnings popping up.
Isaias still has the potential for heavy rains, strong winds and power outages so make sure your cell phone remains charged. Overall though, Maine appears to be dodging any major threats.
10 Maine Towns Out-of-Staters Can't Pronounce Correctly