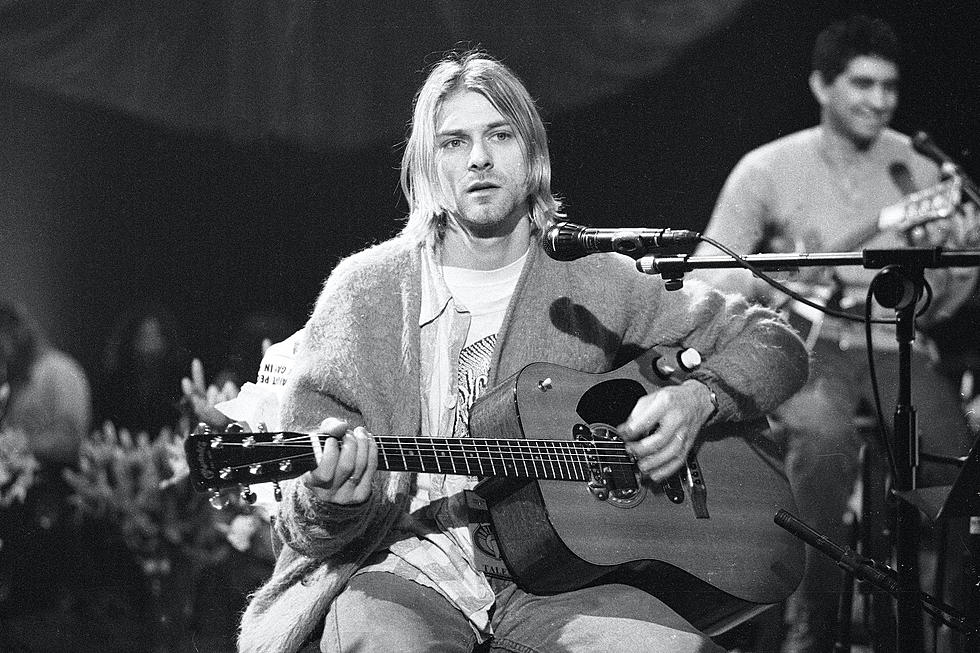 Here's Why Kurt Cobain's 'Unplugged' Sweater Is Being Auctioned Again
Frank Micelotta, Getty Images
You may think the original buyer of Kurt Cobain's iconic MTV Unplugged sweater would want to hang onto it. But that's not the case. When the historic garment hits the auction block later this week, it will actually be the second time the sweater's been sold off. Garrett Kletjian, owner of pro race team Forty7 Motorsports, first landed the cardigan for a cool $137,500 from Julien's Auctions in November 2015. So why is the same Hollywood auction house ready to sell it off again?
Well, it seems the responsibility of the sweater has grown too big for the original bidder. Kletjian — a longtime Cobain fan who even has a giant painting of the late Nirvana frontman hanging in his kitchen — has simply been storing the cardigan in a gun safe in his home in rural Pennsylvania. Although he tried it on just once shortly after it arrived, he's ready to bequeath it to a new owner.
"I opened it up and it immediately hits me: 'Oh, now I'm also going to be responsible for this,'" Kletjian told Rolling Stone this week, while admitting he overbid for the item in 2015. "I went way over. … It was moving quick, quick, quick, quick, quick. I was with my wife and I said, 'All right, I'm up for one more bid.'"
Perhaps part of the reason Kletjian's ready to get rid of the sweater is that it's expected to go for twice what it did in 2015. Sure, the acrylic, mohair and Lycra-blend cardigan likely made in the 1960s probably went for around $15.95 when first manufactured by Manhattan Industries, a shirt company incorporated in 1912 that's since been absorbed by Perry Ellis International. But the shaggy, olive green number Cobain donned during the later months of his life (and, of course, during the November 18, 1993, MTV Unplugged taping) represents a recent wave of rock memorabilia going for big numbers.
"It's not just a collector's market — it's an investor's market," Darren Julien of Julien's Auctions said. "We anticipate that [the sweater] will sell for more than double [the last sale price]. I call it the new fine art market. People are investing more and more in pop culture, especially rock [and] roll."
It's been a long journey for Cobain's MTV Unplugged sweater. It was first given to Cobain family nanny Jackie Farry by Cobain's widow, Hole's Courtney Love, shortly after the Nirvana singer's 1994 death. In her will, Farry designated the sweater to Cobain and Love's daughter, Frances Bean Cobain. But when Farry ran up against cancer, she decided to sell the sweater with family's blessing.
"I wouldn't have got involved if I didn't need the money," Farry explained. "Before I would commit to selling it, I got in touch with Courtney and Frances to make sure they were cool with it. I remember thinking and saying that if Kurt knew the situation I was in, he would definitely want me to sell it. They agreed."
Initially expected to net up to $60,000, Farry was surprised when the cardigan nabbed six figures. But the amount seems to line up with other auctions. A lesser-known Cobain sweater went for $75,000 earlier this year.
Who knows what sum the sweater will reel in this month. All for the historic garment that still has a stain in one of its pockets — "some kind of brown, crunchy something in there," Kletjian described — as well as cigarette burns and a missing button. In fact, it hasn't been washed since Cobain wore it.
The Nirvana rocker's iconic Unplugged sweater will be included in Julien's Auctions' "Icons & Idols: Rock 'N' Roll" Oct. 25 and 26 at the Hard Rock Cafe in New York. Also up for bid is one of Cobain's Fender guitars.
See Nirvana in the Top 30 Grunge Albums of All Time