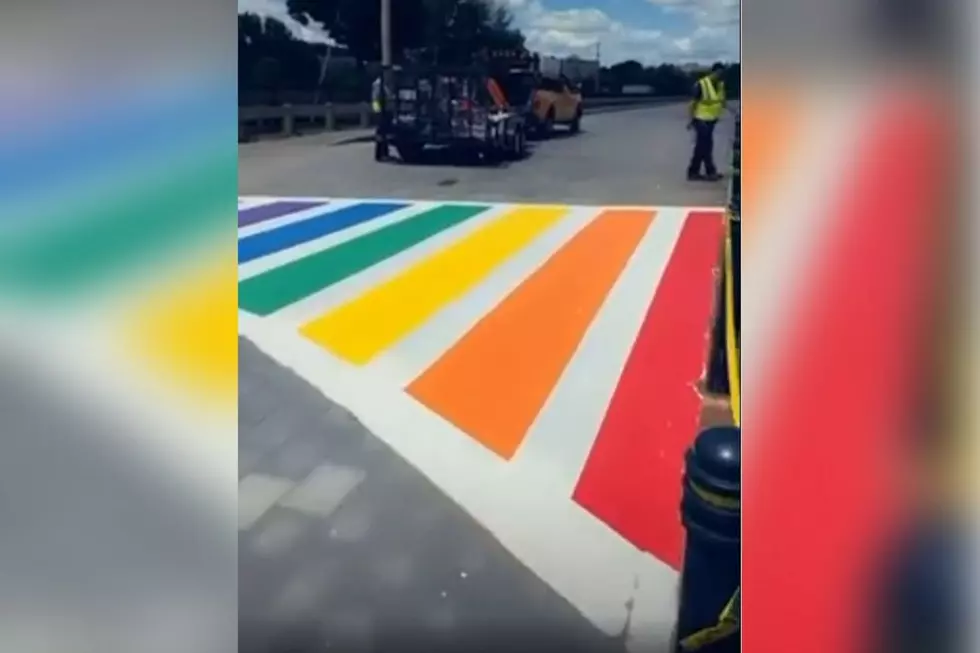 Lewiston Public Works Paints Rainbow Crosswalk For Pride Month
LewistonMaine via Instagram
On Monday, the City of Lewiston installed a rainbow crosswalk to celebrate Pride Month, thanks to the Lewiston Public Works crew.
Rainbow crosswalks are painted in many cities and towns in Maine and across the nation, standing as a visual reminder of the need for inclusion and equality of those in the LGBTQ community and celebrating our friends and family in that community.
This seems like a no-brainer. We're all human regardless of sexual orientation. Still, there are those who feel the need to send their own message like the motorcyclist in Brunswick who laid rubber on the town's rainbow crosswalk, vandalizing it after being freshly painted.
Lewiston's rainbow crosswalk was completed on Monday at the corner of Oxford and Beech Streets, between the old Grand Trunk Railroad station and the entrance to Simard-Payne Memorial Park, which is on the ground of the former Grand Trunk Lewiston rail yard.
This is the perfect place for the rainbow crosswalk as it's heavily trafficked by pedestrians as the days get warmer and warmer. People will be using this crosswalk during the month of June on their way to the park on a lunch break, taking a walk with family, or going for a run along the Auburn Riverwalk Trail.
The Lewiston Public Works crew did an amazing job. The colors really pop and it certainly gets attention and sends its message. Let's just hope that this rainbow crosswalk is respected and embraced, not vandalized like that jerk in Brunswick did last week.
Pine Point Beach House For Sale in Scarborough, Maine Just Steps Away From The Ocean
Maine's 16 Counties Ranked By How Much Money People Make
Here's the list of every county in Maine ranked by median household income from lowest to highest.