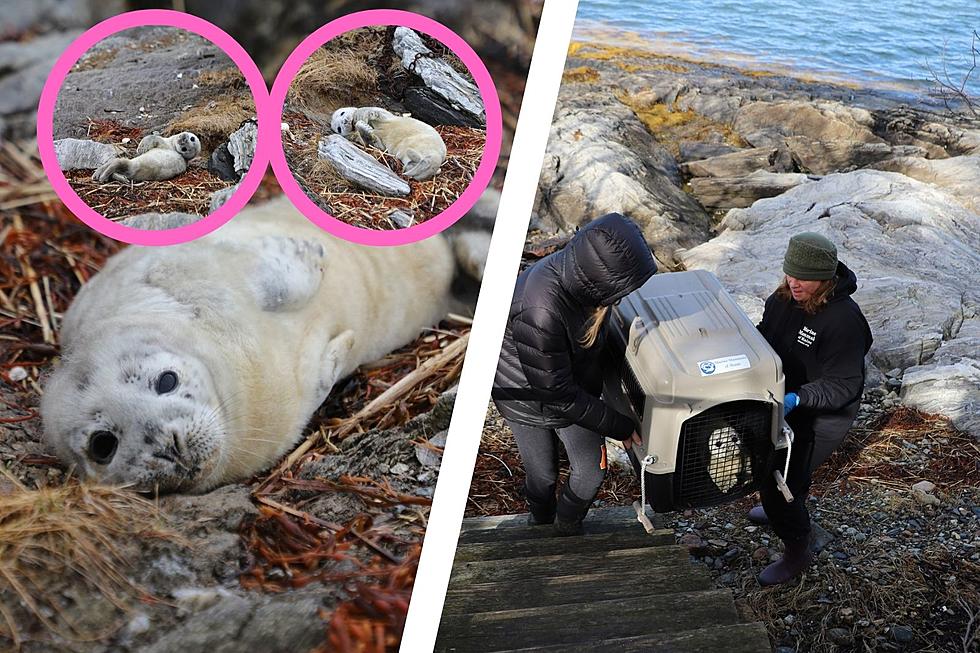 Maine Organization Helps Rescue Adorable Abandoned Seal Pup Only a Few Days Old
Marine Mammals of Maine via Facebook
While spring here in Maine is a most welcome sign, it's not without its complications. The good folks at the Marine Mammals of Maine recently pointed out one of those significant issues on their Facebook page.
That's right. Somewhere between the incredible cute photos of this seal pup is a very important message sent to the masses. Spring is the beginning of harbor pup season, which means more work for this incredible non-profit.
As Marine Mammals of Maine points out, this is their busiest time of the year. Pups will be found abandoned, injured, or malnourished. If they are found in time, the pups do have a chance of survival. However, early interaction is clearly important.
The Marine Mammals of Maine mission is to
mission is to provide response, assistance and care for stranded marine animals and to work collaboratively with similar organizations to aid in the protection and support of marine animals as defined by the Marine Mammal Protection Act. To provide public education about marine animals and the environment.
Like any non-profit, Marine Mammals of Maine relies on the community in their incredibly important fight. The organization has set up an Amazon Wish List to support the mission. The list includes simple items like office supplies and much more important first line items like soaps and disinfectants. The group wants to be sure it's ready for whatever the season may bring them. And with limited funds, help from the community is greatly appreciated.
Harbor seal pup behavior can be very tricky. It's important that folks are mindful of this, especially if they come in contact with one. According to World Animal News,
Often, harbor seal pups may exit the water and remain in the same place for several days or weeks at a time. This is natural behavior for those four to six weeks old, and does not indicate that they've been abandoned.
However, the best course of action, especially if you don't know, is to call the authorities or an organization like Marine Mammals of Maine. Always let the experts make the determination. That way, little cuties like the one above have as best of a chance at survival as possible.
If you are interested in getting involved or finding out more about the amazing work Marine Mammals of Maine does, you can visit them at their website.
17 Wild Animals You Could See in Bangor
A young moose was seen munching on trees in the Bangor City Forest recently. Here are some other animals that are known to live in the Bangor city limits, particularly within the Bangor City Forest, a 600+-acre preserve in the city.
You're Breaking The Law In Maine If You Have Any Of These Animals As Pets
Stick to the cats and dogs that you know because if you're keeping any of these animals (or animals like them) as pets in Maine, you're breaking the law and could face stiff penalties.