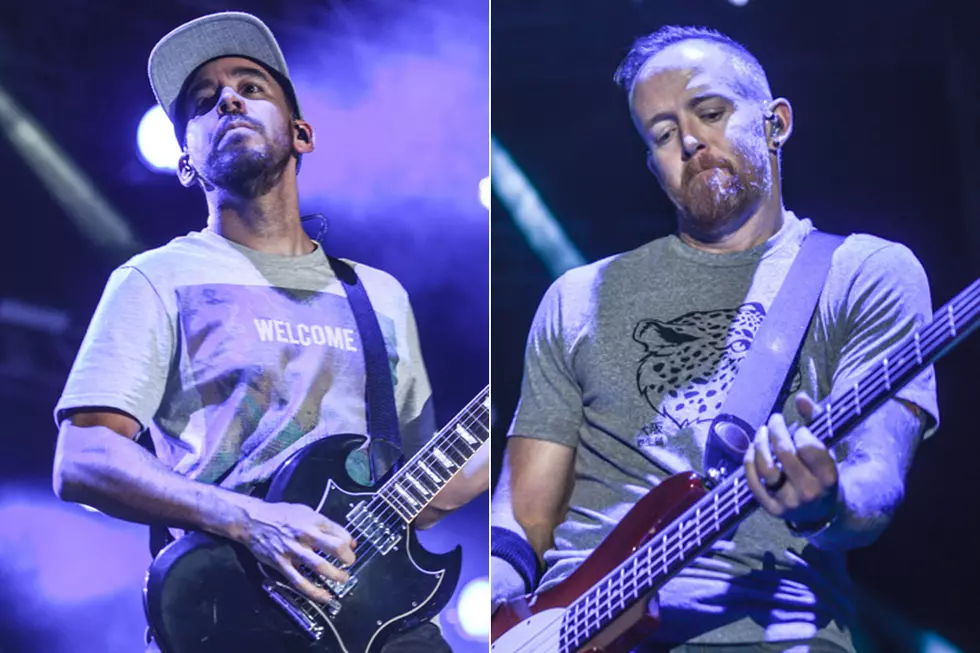 Mike Shinoda Reunites With Linkin Park's Dave 'Phoenix' Farrell for Las Vegas Halloween 'Run'
Loudwire / In Action Photos
Though it remains to be seen if Linkin Park will continue, fans of the group got a reunion of two members onstage last night for Mike Shinoda's Halloween concert in Las Vegas. Linkin Park bassist Dave "Phoenix" Farrell sat in for a good portion of the band's set.
Overall, it was a fun night for Shinoda who dressed up for Halloween in his best Run-DMC gear, opening the show with a bit of "It's Tricky." Later in the evening, Farrell joined in, also offering sartorial tribute to the rap legends sporting a Run-DMC shirt. The bassist hopped on for the song "Papercut," toward the end of the body of the set, then returned with Shinoda for the encore that included "Iridescent," "Castle of Glass" and "Good Goodbye / "Bleed It Out" from Linkin Park's catalog. The encore also included Shinoda's own songs "Make It Up as I Go" and the show closing "Running From My Shadow" as well as the Fort Minor track "Remember the Name."
After the performance, Shinoda hit social media with a number of photos from the night as well as a thank you nod to Phoenix for joining in "for a bunch of songs." You can also see Farrell in a photo posting posing as Run-DMC's biggest fan getting an autograph. And finally, a snippet of footage of Shinoda performing Run-DMC's "It's Trick" can also be viewed below.
Shinoda is currently in the midst of a North American headline tour. Remaining dates on the run can be viewed below
Mike Shinoda 2019 Tour Dates
Nov. 2 - Los Angeles, Calif. @ Palladium
Nov. 5 - Anaheim, Calif. @ House of Blues
Nov. 6 - San Francisco, Calif. @ The Masonic
Nov. 8 - Salt Lake City, Utah @ The Depot
Nov. 9 - Denver, Colo. @ Fillmore
Nov. 11 - Chicago, Ill. @ House Of Blues
Nov. 12 - Cincinnati, Ohio @ Bogart's
Nov. 14 - Boston, Mass. @ House Of Blues
Nov. 16 - Detroit, Mich. @ Fillmore
Nov. 17 - Silver Spring, Md. @ Fillmore