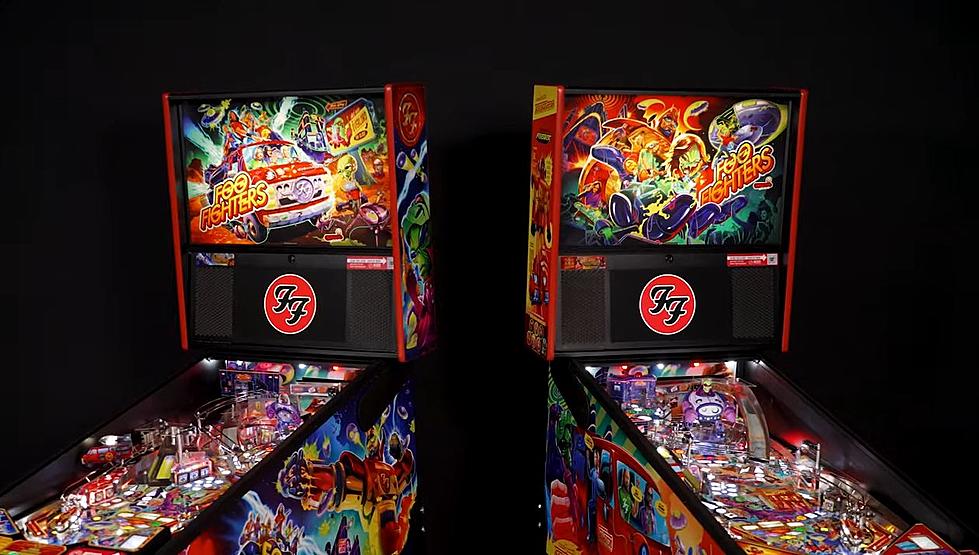 New Foo Fighters Pinball Machine Popping Up All Over New England
Stern Pinball via YouTube
Foo Fighters fans throughout New England are already excited that the band is making stops on their tour at The Bank of New Hampshire Pavillion in Gilford on May 24 and then appearing at the Boston Calling Musical Festival on May 26. But if you're a hardcore Foo Fighters fan, Stern Pinball has released a new pinball machine that you are going to love.
Stern Pinball has made pinball machines for a slew of rock bands over the years including The Rolling Stones, AC/DC, Metallica, Iron Maiden, Kiss, Aerosmith, Led Zeppelin, and Rush. They're all great games, but most of them get referred to as "Dad Rock," as the bands were all big in the 60s, 70s and 80s. The Rolling Stones might even go so far as to be called "Grandpa Rock."
Stern has moved ahead a decade with their latest rock band release, Foo Fighters.
Pinball has changed a lot in recent years. There are no more bells and chimes that you may remember. Modern pinball is a fast game with lots of ramps, loops, and toys to bash to earn points. They're now made with an LCD to not only track your score but show amazing animations to tell a story to go along with the gameplay.
Stern Pinball describes the game in a press release:
More than two years in the making and with creative input from the band's own Dave Grohl, Nate Mendel, Pat Smear, Chris Shiflett, Rami Jaffee, and the late, great Taylor Hawkins, Stern's Foo Fighters is a top-shelf pinball machine—and so much more. An entirely new universe has been developed with jaw-dropping hand-drawn artwork and custom animations including "Foo Fighters Saturday Morning Action Time!"—a fictional TV series chronicling the band's quest to save rock and roll… AND THE WORLD!

 
Here's a look at the game in action.
The man who designed it is also one of the most famous pinball streamers on Twitch. Jack Danger's Dead Flip channel has 32,000 followers which is very impressive. This isn't Call of Duty we're talking about here.
Jack's a pinball fanatic who decided to dabble in pinball design and was hired by Stern Pinball. Foo Fighters is his second game.
Wanna play?
Games are just beginning to ship out, so here are the locations around New England that have told us that they have Foo Fighters or will have it soon:
Maine Silverball Tavern - 35 Scammon Street - Saco, ME
A&G Pinball Emporium - 214 Center Rd - Unit 2 - Fairfield, ME
Flippers Pinball Parlor at Maximillian's - 315 Middlesex Road - Tyngsborough, MA
The Double Bull Taphouse - 210 Andover Street - Peabody, MA
Roxy's A4cade - 292 Massachusetts Ave - Cambridge, MA
GameCraft Arcade - 168 Center Street, Suite 106 - Southington, CT
Pizza J - 967 Westminster St - Providence, RI
The following locations are pinball clubs that are open to the public, but carry a membership fee or entry fee to play.
The Pinball Co-Op - 1881 Williston Rd. - Suite 3 - South Burlington, VT
The Sanctum - 290 Pratt St - Meriden, CT
Keep checking back as more locations are added to this list.
Maine Silverball Tavern in Saco is a Pinball Lovers Dream
25 of the Best Arcades in All of New England
These are 25 of the best arcades in New England