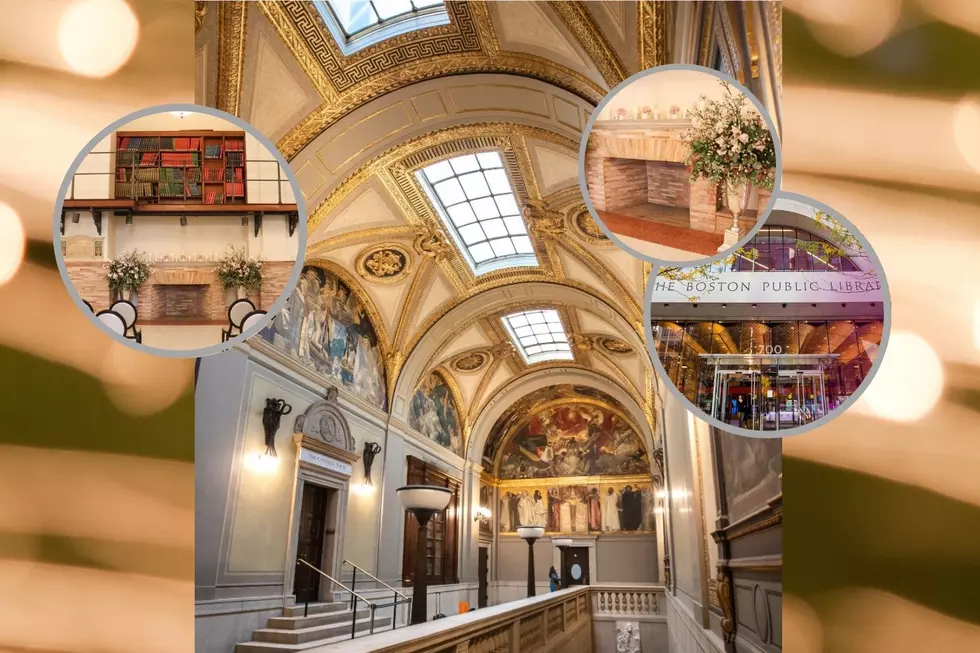 You Can Get Married at the Picturesque Boston Public Library for Just $200
Boston Public Library Facebook/Boston Public Library
What an incredible, picturesque opportunity to walk through the hallowed halls of the Boston Public Library filled with murals and spectacular paintings, marble, and sculpture, into a lovely room set aside for you and your loved one to get married, all for just $200.
Whether you're budget-conscious, want something simple and intimate, or want to save the main bulk of your budget for a fabulous reception, this is everything right now, and the first time ever that the Boston Public Library is offering this wedding ceremony opportunity.  Think of the photos!  Just wow!
Weddings at the Boston Public Library aren't new at all, but the $200 value is. This stunning building, founded in 1848 and opened in 1854 as the first large free municipal library in the country, according to the library archives, is making this elegant, inexpensive ceremony possible.  It truly opens up the accessibility to a piece of Boston history for a special moment.
You can tie the knot in a one-hour ceremony in downtown Boston's Back Bay neighborhood in Copley Square, and Boston Mayor Michelle was beaming when she made this official.
Our Boston Public Libraries are some of Boston's most treasured spaces, and many a bride or groom have dreamed about celebrating their wedding day at the Central Library in Copley Square.  This new program offering one-hour wedding celebrations in the Guastavino room at the library will provide another beautiful, intimate, affordable option for couples in Boston to celebrate their weddings in one of the most breathtaking spaces in our city. Thank you to our team at BPL for continuing to find ways to make their programs and services accessible to all Boston residents
The first Monday of each month will be set aside for these wedding ceremonies.  You can invite up to eight guests plus your photographer, and of course your officiant.
Get an Education at These 22 New Hampshire Colleges and Universities
From coast to coast: The 20 best regional fast-food chains to try
From burgers to subs and even creamy milkshakes, these tasty fast-food chains, compiled by
Stacker
, are a must-try on your next road trip.