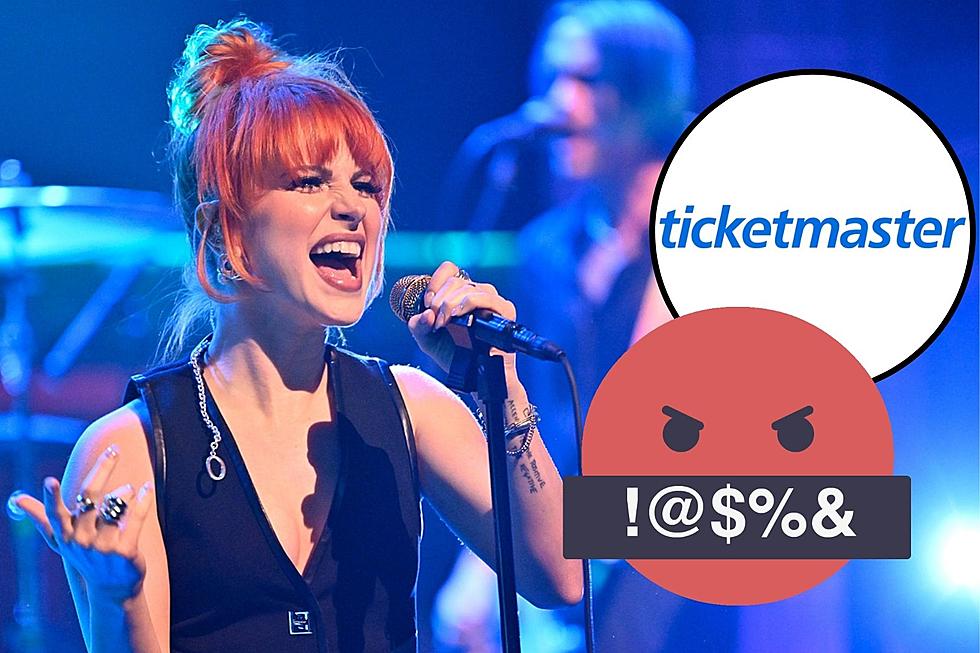 Paramore's Hayley Williams Calls Out Ticketmaster Onstage – They 'Need to Get Their S–t Together'
Todd Owyoung/NBC, Getty Images / Ticketmaster / Cavna
Paramore singer Hayley Williams has joined the growing chorus of disgruntled musicians who are growing tired of Ticketmaster and Live Nation's practices and she called out the ticketing agency from the stage at a show in Cardiff, Wales in the U.K., saying they "need to get their shit together."
As the live music industry roared back in the wake of the pandemic shutdown, ticket prices have skyrocketed, leaving fans to pay hundreds of dollars for far less than premium seats as they're already feeling the financial strain of rising inflation. For Live Nation, the company which owns and operates dozens of venues worldwide and also owns Ticketmaster, it's meant massive swells in revenue despite countless issues with scalper bots and other nefarious online practices by those looking to profit on the ticket resale market.
Addressing the crowd on April 15, Williams relayed her understanding that these takes it takes a lot for any one fan to be able to come out to a show and support a band they love.
"I wanna say one more time how special it is that you've all made it tonight. We don't take it lightly, we know, honestly, especially now, it's a huge sacrifice to come to a show because Ticketmaster need to get their shit together," she said (via Consequence).
Touching on the financial end, the singer added, "We've put a lot of pressure on ourselves too because we were like, 'People are spending money that they don't have to come and hang out with us and we better give them something that's worth that'. We just love you so much."
READ MORE: Live Nation Nearly Tripled Its Revenue From 2021 to 2022 as Ticket Prices Soar
Perhaps nobody is more aware and willing to take a defiant stand against a dynamic pricing business model he feels is a "greedy scam," than The Cure's Robert Smith. He's given Ticketmaster all sorts of hell in recent weeks while battling the company to get them to put tickets on sale under the exact terms he outlined and demanded.
After negotiating prices he felt were reasonable for The Cure's upcoming tour (with tickets mostly being priced in the $20-$40 range), Ticketmaster began charging some fans more in total fees than the original cost of the ticket, thus doubling the price at checkout.
Not standing for it, Smith actually got Ticketmaster to issue ticketholders partial refunds for some of those fees. The goth icon later was able to force the ticketing agency to identity 7,000 scalped tickets (meaning Ticketmaster possesses the means to directly address and stop one of the biggest problems in the ticket market) and had those tickets put back on sale while the fees associated with the 2,200 ticket orders were all donated to charity rather than refunded to the scalpers.
Meanwhile, Paramore's tour overseas in support of their latest album, This Is Why, continues before returning to North America for a tour that kicks off on May 23. See those dates here and for tickets, head to this location.
Paramore Setlist — April 15, 2023 (via setlist.fm)
01. "You First"
02. "The News"
03. "Playing God"
04. "That's What You Get"
05. "Running Out of Time"
06. "Hard Times" (with snippets of "Born Under Punches" by Talking Heads & "Heart of Glass" by Blondie)
07. "Caught in the Middle"
08. "Ain't It Fun"
09. "Liar"
10. "Crystal Clear" (Hayley Williams song)
11. "Decode"
12. "Still Into You"
13. "Rose-Colored Boy" (with snippets of "I Wanna Dance With Somebody" by Whitney Houston & "Genius of Love" by Tom Tom Club)
14. "Baby" (HalfNoise cover) (Zac Farro on vocals, Hayley Williams on acoustic guitar)
15. "what can you say" (Adrianne Lenker cover) (Hayley solo on acoustic guitar)
16. "Last Hope"
17. "I Caught Myself"
18. "All I Wanted"
19. "Misery Business" (fans invited to stage)
20. "Crave" (with extended outro)
Encore:
21. "The Only Exception"
22. "This Is Why"
Scene Albums That Went Platinum