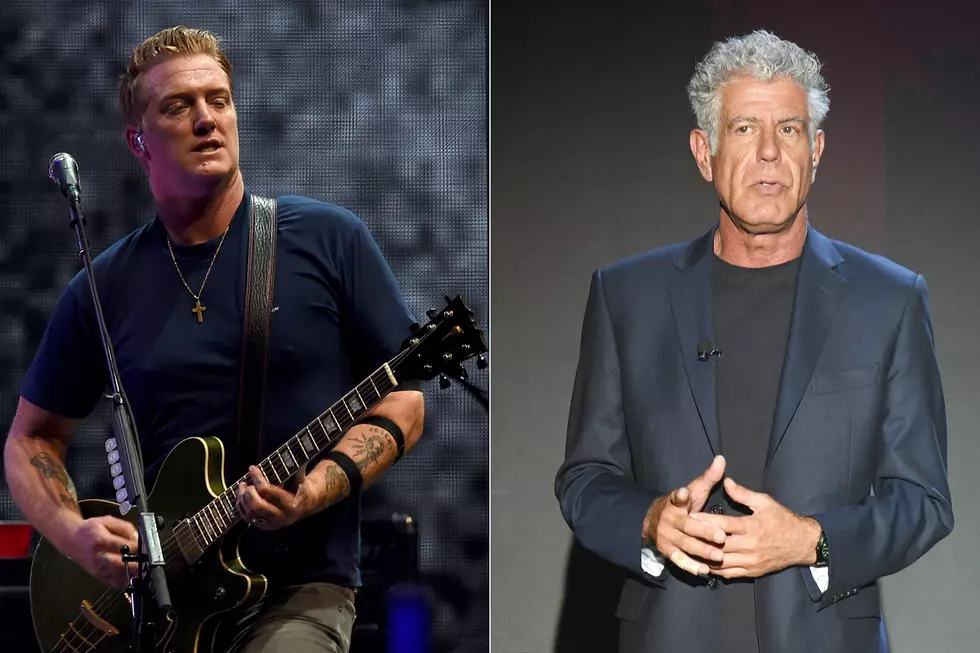 Queens of the Stone Age Salute Anthony Bourdain at Denmark's NorthSide Festival
Kevin Winter / Dimitrios Kambouris, Getty Images
Celebrity chef and television host Anthony Bourdain passed away Friday (June 8) at the age of 61, reportedly committing suicide. While the tributes came in via social media for the Parts Unknown host throughout the day, Queens of the Stone Age were among the first to pay tribute with music. During their appearance at the NorthSide festival in Denmark, frontman Josh Homme kept is short and sweet, telling the crowd, "Sometimes you lose somebody. Today we lost somebody so this song is for Tony."
The band then launched into a performance of "Long Slow Goodbye" in honor of Bourdain, as can be seen in the footage from the festival posted above. The tribute and song come at the 45:55 mark in the player.
Homme had been a longtime friend and guest on Bourdain's television program, with the travel host visiting Homme's Rancho De La Luna for an episode of No Reservations in 2011. The Queens of the Stone Age frontman later composed the theme song for Bourdain's Parts Unknown series.
"Dammit Tony. I'm so sorry. I'm so destroyed. I love you brother. I miss you too much already. My love & condolences to Ariane & Ottavia," tweeted the singer shortly after news of Bourdain's death had been made public.
Queens of the Stone Age Albums Ranked