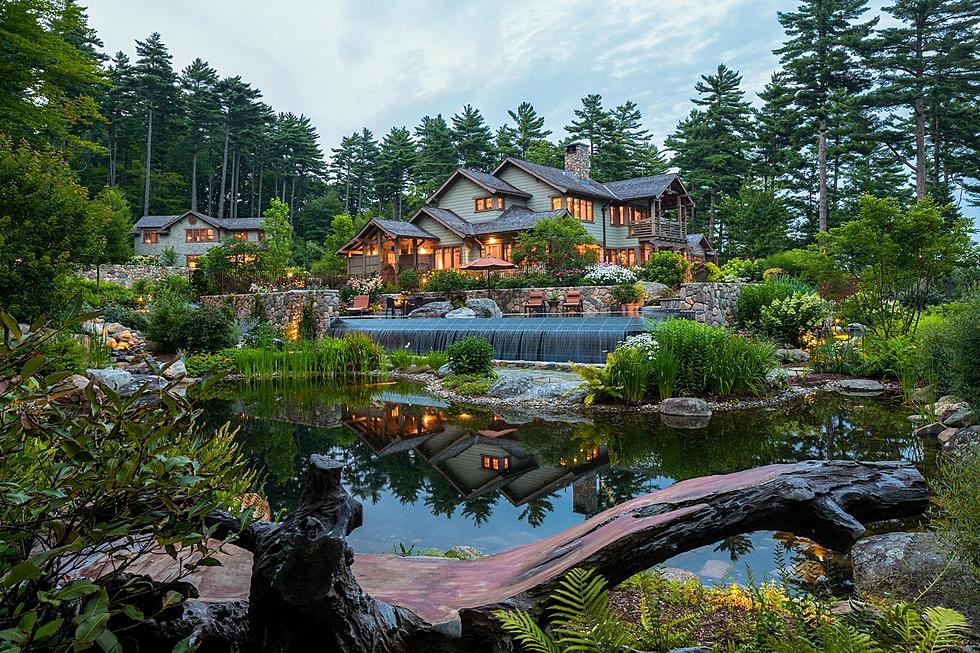 Stunning Architecture, Immaculate Views Highlight This $8.5 Million Camden, Maine, Home
Brian Wickenden, Legacy Properties Sotheby's International Realty via Redfin
If living in Camden wasn't attractive enough, just imagine if this was your home.
Sitting on 18 acres, this early Modern Style house mixes luxury with beauty, all while paying plenty of respect to the lands it lays on. It's quite a testament to the designers and builders. Each little feature looks like a natural fit.
To say this house has everything is an understatement. The property has lush gardens, water features, an immaculate pool, a guest house, a theater room, sauna, wine cellar, geothermal and radiant heating, views of Camden Harbor and even heated parking for four cars. The only thing missing is a private jet.
The house is described as an Arts and Crafts style home. The architectural style can be seen in the roofing, use of space and connection to nature. There's also no wasted space. The amount of detail put into this property is simply stunning.
Location is also a huge plus with this property. It sits just under Camden Hills State Park and a few miles from the village proper. Quite possibly one of the prettiest places you can live in Maine.
The property at 135 Mountain Arrow Drive in Camden is still available, with an asking price of $8.5 million. Tour your new dream home today. Find out more information by visiting Legacy Properties, Sotheby's International Realty. Or you can contact the listing agent, Brian Wickenden, by clicking here.
$8.5 Million Camden, Maine Home Wows With Architecture and Views
Take A Peak Inside Camden's Norumbega Inn
Staying at the Norumbega Inn is like staying at a castle. But, instead of making the trip to Europe, all you have to do is drive to Camden.
Carlos Santana Selling $4.7 Million Hawaii Home With Ocean Views
Guitar legend Carlos Santana is selling his $4.7 million home in Hawaii. Take a tour of Carlos Santana's 4,386 square-foot home with glass walls and ocean views.