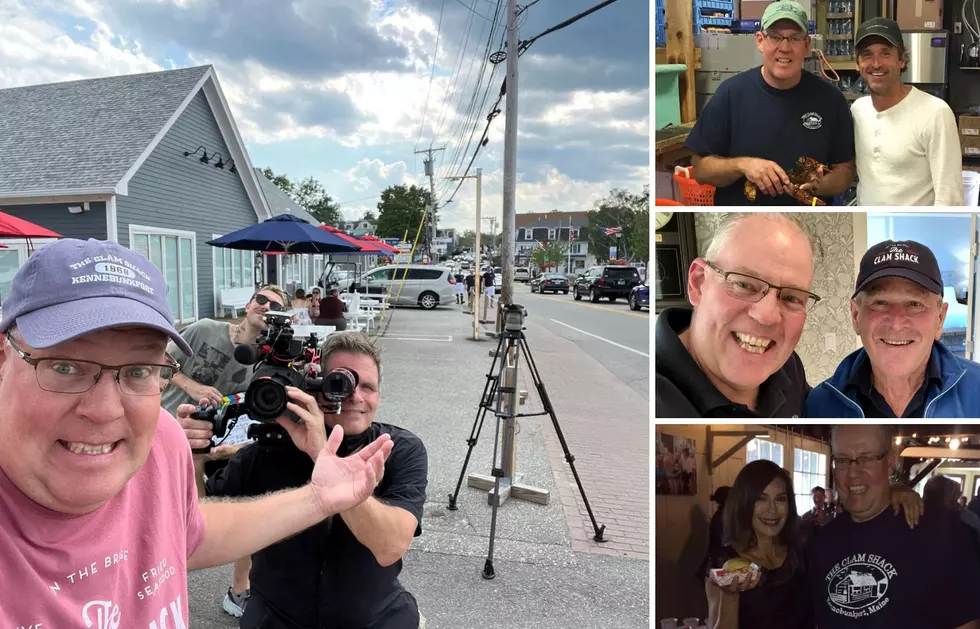 The Popular Clam Shack in Kennebunk, Maine, Will Be on a 'Big Network' TV Show
The Clam Shack via Facebook: Canva
A Local Maine Institution
The Clamshack in Kennebunk has been providing the masses with delicious seafood since 1968. The iconic restaurant and its adjacent seafood market has been an institution and can't-miss spot for locals, tourists, celebrities, and even presidents.
The restaurant is located right in the heart of the beautiful bay walk in Kennebunk. The centralized location is easy for folks to find, especially in the summer when the line is, well, formidable.
Maine Celebrity Sightings
The Clam Shack is not only known for its fried seafood delights and lobster, but also celebrity sightings and national media appearances. Maine's own Patrick Dempsey, Drew Brees, Quintin Tarantino, Teri Hatcher, and every member of the Bush family are just a few of the celebs that have stopped by over the years.
However, now it's The Clam Shack that will be in front of the camera.
The restaurant's owner, Steve Kingston, took to social media with a few images and a message that has fans guessing what show might be filming.
No matter what show it may be, it's wonderful news for the Kennebunk establishment. Any show that promotes Maine's restaurant industry is outstanding. And for an iconic establishment like this to be featured is very unique. You would have to imagine that the Shack's legacy is very attractive for production companies to explore.
Goldbelly Partner
The Clam Shack's future television hit will certainly help add more fuel its recent venture: nationwide shipping through the food delivery company, Goldbelly. The Shack offers a lobster roll kit, fried clam kit, clam chowder, picked lobster meat, and more. The restaurant is a perfect fit on the website, which features iconic menu items from across the country.
Hopefully we get more details soon about the upcoming television venture. As for now, I guess we just continue to indulge in The Clam Shack's amazing seafood and story.
30 "Under-the-Radar" Restaurants in Maine
Thanks to our great listeners we were able to compile a list of many of Maine's great "under-the-radar" restaurants, cafes, pubs and bakeries.
These great spots can be found across the state, and waiting for you to give them a try.
How many have you been to?
LOOK: The oldest cities in America
Though the United States doesn't have as long of a history as some Old World countries, it still has plenty of historical charm.
Stacker
brings you a list of the 50 oldest cities in America.