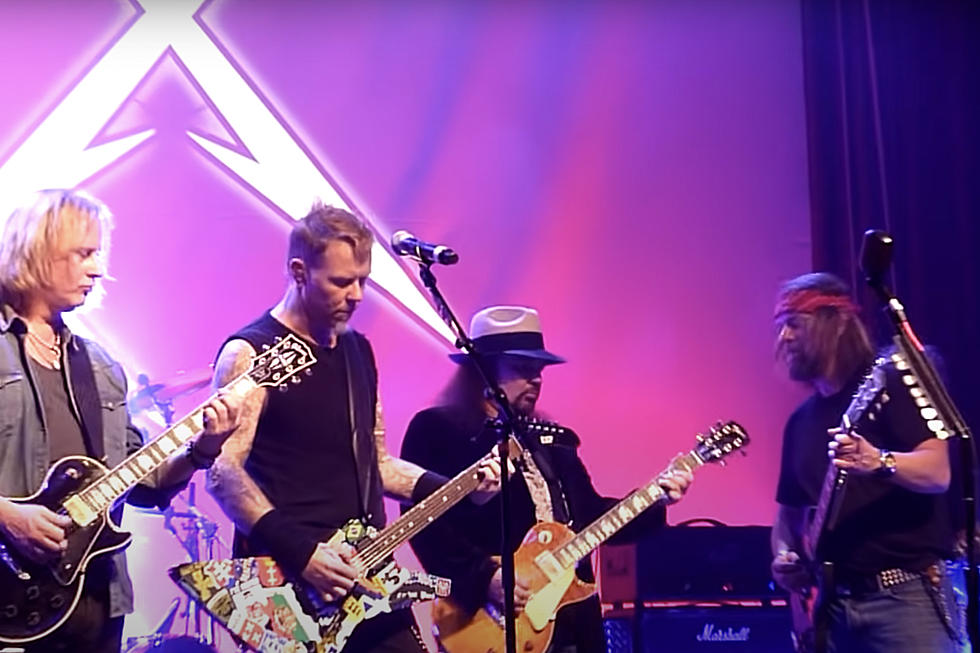 'The Ultimate Metallica Show' Recap: Celebrating Lynyrd Skynyrd's Gary Rossington
mathiasnielsen66 via YouTube
Since hearing the news of the passing of Lynyrd Skynyrd guitarist Gary Rossington, fans and peers across the world have been doing everything they can to celebrate his life and legacy. For The Ultimate Metallica Show, that meant turning to one of Metallica's most fun cover songs ever, their take on Skynyrd's "Tuesday's Gone."
But rather than spinning the studio recording from the first disc of Garage Inc., I decided to turn to a rare live performance of the cover for this past weekend's show. This particular recording came from Metallica's 30th-anniversary gigs at The Fillmore in San Francisco, and just like the studio recording, the performance included several special guests—including Rossington.
At one point, James Hetfield tosses it to him ahead of a solo, simply saying, "Mr. Gary."
If you missed any of the show, you can check out the full playlist below and stream it 24/7 right here.
The Ultimate Metallica Show — Hour 1
The Ultimate Metallica Show — Hour 2
As always, drop me a message in the Ultimate Metallica app if you want to get some requests in for next week's show. It's as simple as that, I promise.
Watch Metallica Perform "Tuesday's Gone" Live in San Francisco
Here Are Some of Our Favorite Metallica T-Shirts
Metallica have not only created some of the best heavy metal in the last 40 years, they've also created some of the most iconic T-shirts. In the last four decades, they've worked with incredible artists like Pushead, Brian Ewing and others to bring their songs and albums to life. In the gallery below, we've picked out some of our favorite T-shirts that are currently available at Metallica's official online store. Which one is your favorite?
Some of Our Favorite Live Photos of Lars Ulrich
As iconic as James Hetfield is, as much of a shredder as Kirk Hammett is and as crazy as Robert Trujillo is onstage, there might be no member more associated with Metallica than Lars Ulrich.
Afterall, he's the reason the band even exists. He's a major part of the songwriting process. He's the voice that stood up for Metallica and musicians across the globe in the wake of Napster.
After hours and hours of rifling through photos of Ulrich, we whittled this list down to just a few of our favorite live shots from the last 20 years. Of course, there's no way to encapsulate Ulrich in a mere photograph, but as you will no doubt be able to tell, you can get pretty close.