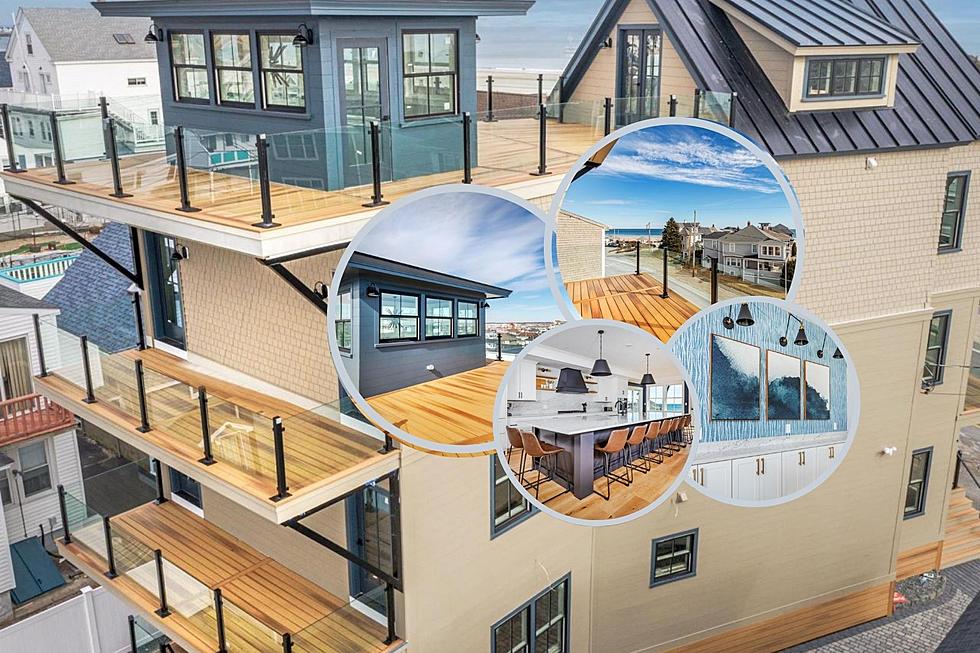 This Cool Vibe New Hampshire Beach House Has 10 Decks and Breathtaking Views
Tom McGuirk, McGuirk Properties, LLC/Canva
Rumor has it that this is the most talked-about home for sale on Hampton Beach in New Hampshire.
Listed by Tom McGuirk, McGuirk Properties, LLC, and described as a phoenix rising from a virtually dilapidated house, this property on Ocean Boulevard has been transformed into a spectacularly contemporary, gorgeous home that's taller than any other property around it.
And it has 10 decks.
Before we take a tour, here's a bit about this beach house, which is perfect for parties and entertaining. Yes, it really has 10 decks with incredible ocean and town views.
There are four bedrooms and two-and-a-half baths in the main quarters of this nearly 5,000 square foot home, and an additional three bedrooms and two baths in the guest quarters.  With such a beautifully designed open concept kitchen and living room floor space on the third level, including an island that seats twelve, this truly is the home for a big family to have an incredible summer at the beach, fabulous parties, or host guests for a perfect Seacoast vacation with lots of friends.
I mentioned the 10 decks, right?  There's a game area, plenty of space for corn hole or a catered affair, and the top decks are perfect for glorious sunsets or sunrises if you're an early riser or never went to sleep.
The roof deck has its own bonus room complete with sitting area, half bath, and wet bar. I mean, is this summer on Hampton Beach with margaritas and sea breeze or what? You'd be on top of the world, too.
Now let's tour this $2,400,000 at 53 Ocean Boulevard on Hampton Beach.
The Ultimate Party Beach House in Hampton Beach New Hampshire
The Best Oscar Best Picture Winners Ever
More than 90 films have earned the title of Best Picture from the Academy Awards. These are the best of the best.