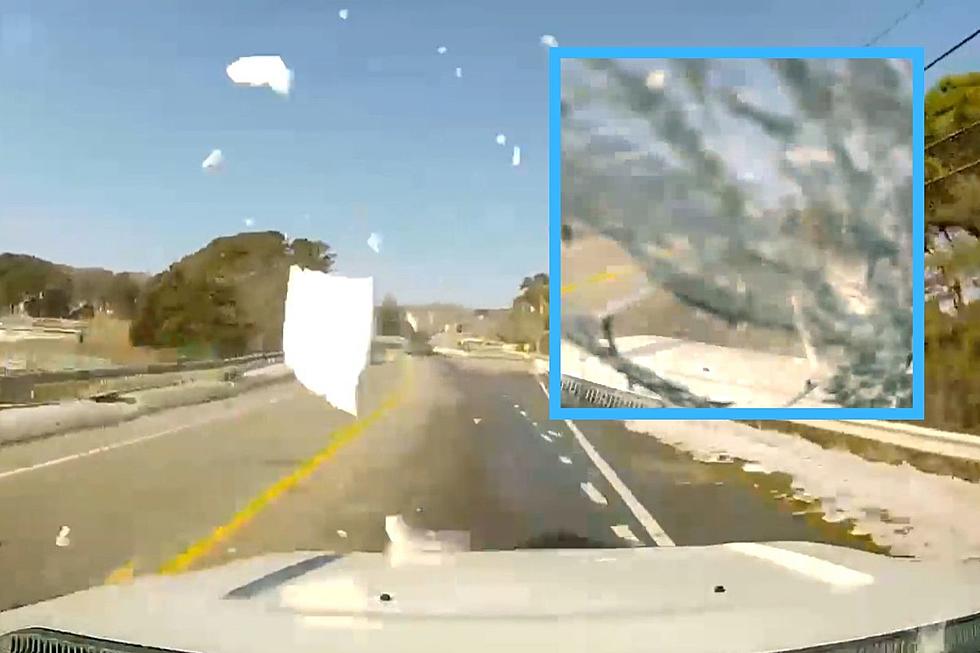 Dash Cam of Fast Flying Ice Chunks Smashing a Windshield is a Warning for New England Drivers
Capeway Towing/Canva
This video I've attached below STILL makes me jump.
It's frightening seeing ice chunks hurling through the air directly at your car, with zero time to avoid them, knowing you're the bullseye, and blinding you the second you're hit.
This video is one of those we all feel out of fear because it's a situation you or I could be in.
Here's the terrifying dash cam video that Capeway Towing in Wellfleet, Massachusetts, posted to its Facebook page.  Scarier still is that it's a beautiful, sunny day after a small snowfall.
Now, first of all, I want you to know that the driver, according to the Cape Cod Times, only got minor cuts and bruises.  Phew!  Kudos to staying calm and clearly keeping control of his vehicle as he slowly steered his way off of Highway 6.
I mean, you and I both know that this could have easily turned into a major collision with multiple cars, or this driver slamming into the guard rail. So petrifying.
Massachusetts and Maine don't have any laws regarding snow and ice on vehicles. However, police can fine drivers if snow or ice is obstructing views, considered an unsecured load, or impedes the roadway after falling off of our vehicles.
Meanwhile, New Hampshire's Jessica's Law requires drivers to clear snow and ice off their cars before hitting the road.  It's named after Jessica Smith, who was killed from flying ice.
Here's another video of this frightening experience that can be prevented.
Please heed these warnings even if it's not law.  It could save a life.
Have you ever had a close call or been hit by flying ice and snow?
Celebrities Who Struggled With Sex or Porn Addiction
From Kanye West to Jada Pinkett Smith and Billie Eilish, discover 13 famous people who openly struggled with an unhealthy relationship with sex or porn in the past.
30 Luxurious Places to Stay in New England for an Unbelievable Getaway
Here is a list of some of the most luxurious places to stay in New England.