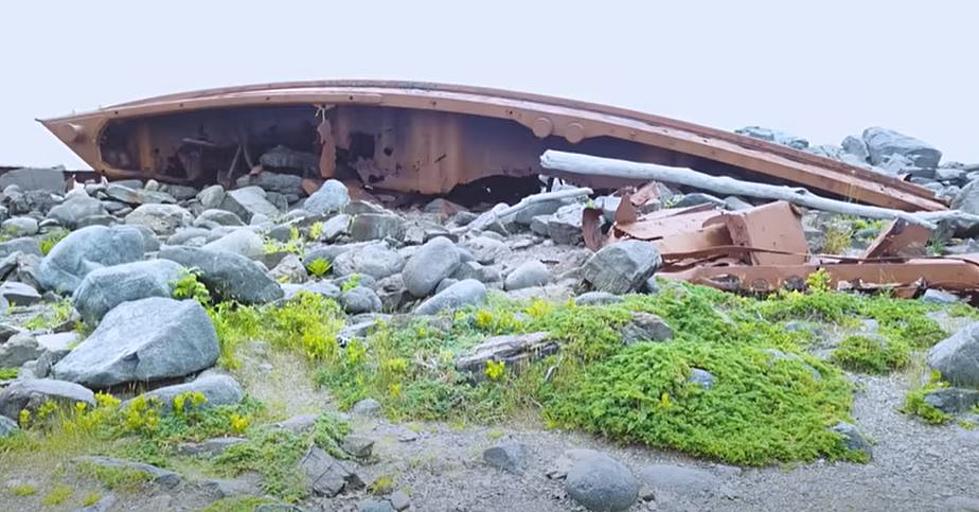 This Island Shipwreck Is A Perfect Backdrop For Your Maine Photos
Youtube
If you are coming to Maine on vacation, or maybe you're planning to take a Maine stay-cation this summer, a visit to Monhegan Island needs to be on your "to-do" list.
Monhegan Island
According to Wikipedia, Monhegan Island lies about 12 miles off the coast of Maine.  The name is derived from the Alogonquian word Monchiggon - which means "out to see island".  The first Europeans to visit the island were pirates.  Later, fishermen lived on the island.  In the late 19th and early 20th centuries, it became an artists colony.
Even though the island does have a population of just under 70 (according to the 2010 census), it is primarily a tourist destination.  The island's village does have a few shops, some restaurants, and hotels.  There are also several rather rugged trails that offer some amazing views and a lighthouse.
One of Monhegan Island's unique attractions is a rusting shipwreck.
The Shipwreck
According to Atlas Obscura, on a very foggy night in November of 1948, the diesel powered tugboat D. T. Sheridan ran aground.  Fortunately, all of the crew survived.  For whatever reason, the wreckage of the vessel was left to rust away on the shore.  In the 1970s, a big storm pushed the hulk even further inland.
If you are looking for a great backdrop for your photos that is VERY "Maine", there aren't many that are better than a genuine shipwreck, right?  From the photos we have seen, it looks like it is possible to climb on top of the boat's hull.  Clearly, you should do so at your own risk.
Whether you're from Augusta, Portland, Boston, New Haven, or New York, you definitely should take the time to visit the island.
Tour The Mid-Coast On A Real Maine Lobster Boat
If you want more details about this Belfast, Maine based excursion, click
HERE
9 Maine Staycations Your Family Needs To Take
Since it looks like the summer of 2021 is going to be a little different - not quite as different as the summer of 2020, though - we've put together a list of great staycations you can take with your significant other or, in many cases, the entire family. This list was inspired by
Only In Your State
. Please keep in mind, due to current COVID-19 restrictions, some places may not be completely open. Let us know what your favorite places to visit in Maine are by messaging us through our app or on Facebook.
12 Incredible Cocktails Perfect For Summer In Maine
Here are a dozen really easy to make (well, most of them are easy to make) summer cocktails. If you REALLY want to play bartender, the Maine spirits
website
has THOUSANDS of recipes.