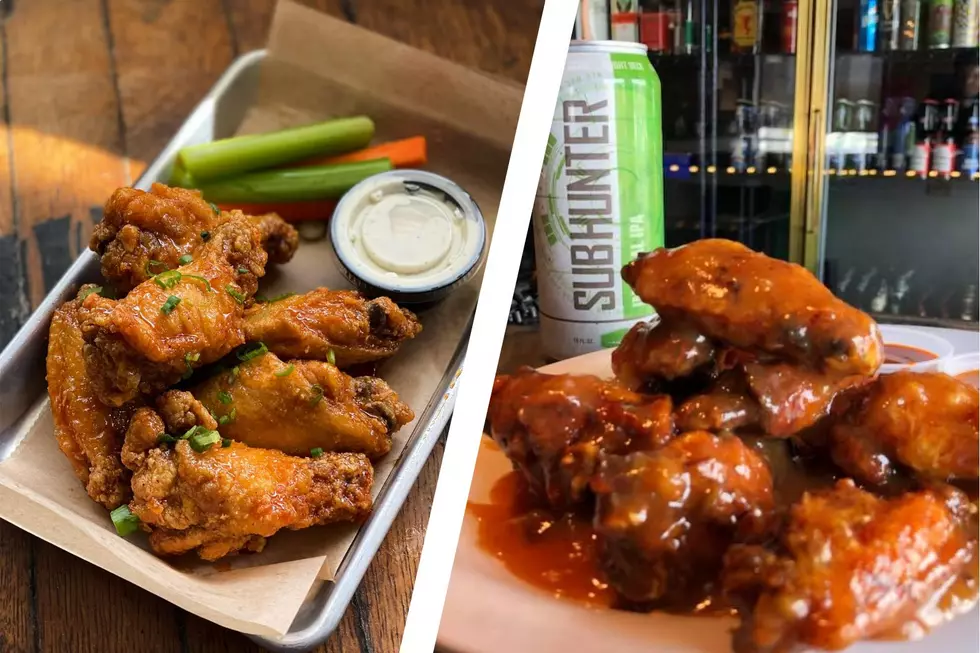 Travel Publication Names Binga's the Best Chicken Wing Joint in the State of Maine
Binga's via Facebook: Canva
Congratulations are in order for one of southern Maine's most popular spots for wings and, well, zingers.
Binga's Wingas, known for its tasty food and clever marketing, was named the best chicken wing joint in the state by human interest site Travel Pulse.
The site had this to say about why Binga's was Travel Pulse's most worthy wing joint....
Known for traditional or smoked "wingas" in addition to tasty tenders, Binga's in Yarmouth has become the main name in the Maine wing game. The sauces here run the spectrum from easy-going flavors like Blanch (a mix of Blue Cheese and Ranch) to zesty numbers like Buffalo Bacon Nacho & Buffalo Garlic to heat seekers like Diesel & Hot Buffalo.
Opening in 2004, Binga's was an immediate hit. Its wings have been one of the talks of the town for a long time.  And, as Travel Pulse mentions, the sauces might be the true star of the show, not just for the taste, but that outstanding creativity. Chernobyl, Spicy Redneck, Sour Deisel...simply outstanding.
Binga's Windham Sign
This article is great publicity for Binga's, a restaurant that already does quite well in that department. That's mostly thanks to the clever scribes at Binga's Windham location.
The ever-rotating sign has become a bit of a landmark in Windham, with countless stories highlighting its hilarious creativity.
Future is Bright for Binga's
Binga's will also be re-opening in Portland in the near future. The restaurant had already moved out of its old location on Free Street. The new spot will be located on Forest Ave, out of the downtown district.
Congrats to Binga's on this good pub. It's always great to see Maine's small businesses getting some national love. So, here's to many more creative signs and tasty wings in the future.
The 5 Maine Restaurants Featured on Diners Drive-ins and Dives Plus 5 More That Should Be on The Show
30 "Under-the-Radar" Restaurants in Maine
Thanks to our great listeners we were able to compile a list of many of Maine's great "under-the-radar" restaurants, cafes, pubs and bakeries.
These great spots can be found across the state, and waiting for you to give them a try.
How many have you been to?