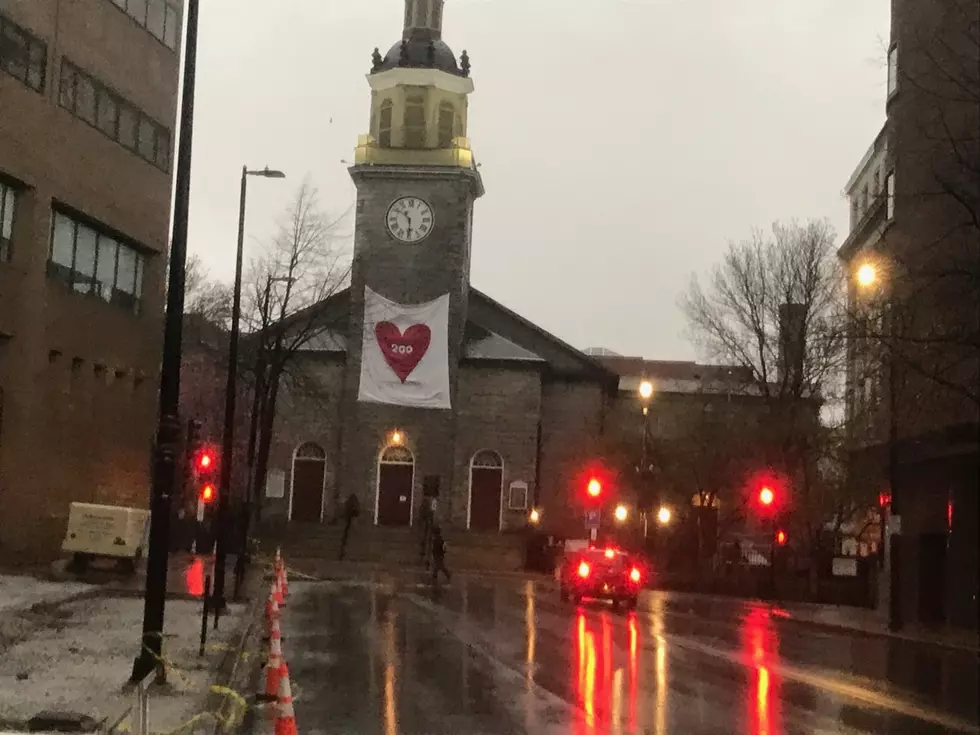 Valentine's Day Bandit Strikes Downtown Portland To Remind Us Of Important Historical Occasion
(Photo By Nikki Cruz/TSMG Staff)
Most people who live in Portland, Maine recognize the handiwork of the Valentine's Day Bandit. The Bandit is usually only active on the eve of Valentine's Day -- Thus the name. However, this anonymous person or persons has come out of hibernation two and a half months after February 14th to remind us that it is the state of Maine's 200th anniversary… Lest we forget… It seems as though the COVID-19 pandemic has overshadowed this important landmark in Maine's history.
The irony of the rain falling as I took this picture of the heart banner juxtaposed with a historic church on Monday morning did not escape me. It's as if the Maine sky (and the V-Day Bandit) were crying tears of sadness because of the people who have died from the novel coronavirus.
It is disappointing that most of the celebratory events of Maine's birthday have been canceled or postponed due to the emergency stay-at-home order. However, Maine's Bicentennial Commission is "working on alternate plans and timetables" for a belated celebration, according to its website.
Amazing drone shots of Portland