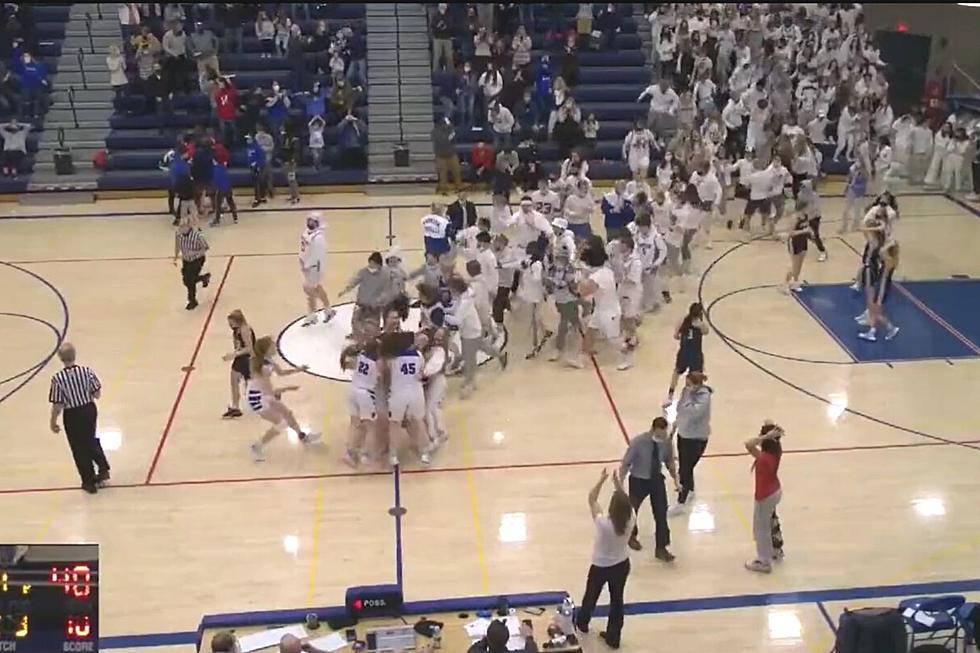 Miracle Buzzer Beater by Winnacunnet's Abby Wilber Makes ESPN
Winnacunnet celebrates Abby Wilber's buzzer beater 1/21/22 (Winnacunnet Girls Basketball via Twitter @WinnaWarGBB)
The ending of Friday night's Winnacunnet-Exeter girls basketball game was the stuff legendary high school moments are made of.
Not only did the Winnacunnet Warriors girls basketball team beat the Exeter BlueHawks for the first time in five years, but they did so on a half court buzzer beater by junior Abby Wilber at the last second.
And it made the #10 spot on ESPN's SportsCenter Top 10 Plays on Friday.
Her teammates and fans poured onto court and surrounded Wilber to celebrate the 42-40 win.
"It was an amazing shot. Neither team had a timeout left, so the girls were on their own. Obviously nobody expected that to go in, but when it did and the students stormed the floor, it was a crazy atmosphere," Winnacunnet Director of Athletics Aaron Abood told Seacoast Current.
An Amazing Night
"The girls don't get a crowd like that for every game, so to have the stands full of students for it was great for our school and the girls," Abood said.
Abby is a junior and plans to play college field hockey, according to Abood.
Seacoast Online was the first to report on Abby Wilber's accomplishment.
Contact reporter Dan Alexander at Dan.Alexander@townsquaremedia.com or via Twitter @DanAlexanderNH
You Can Rent This Island Off the Coast of Bar Harbor, Maine
Looking for a new adventure? How about renting an entire island off the coast of Maine?
Book a stay on Spectacle Island. This tiny island boasts an incredible Maine cottage and views to die for.