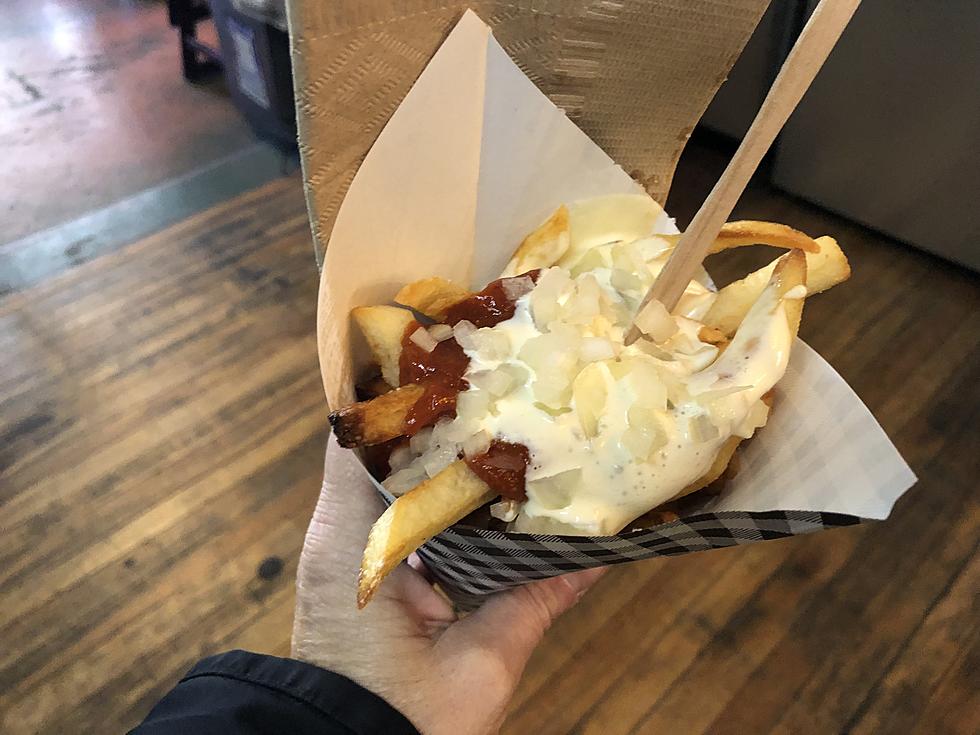 What the Hell is a Dutch-Style French Fry? Find Out At Frying Dutchman in Portland
TownsquareMedia
First things first. What the hell is a Dutch-style fry? I know one thing it is - delicious!
The Frying Dutchman on the 2nd floor of the Public Market House in Portland is brand new and open Monday through Saturday 10-4. They serve french fries and some sweet treats. But not just any style french fry, Dutch-style. According to one of the owners, Leon Vuong, Dutch-style means that the potato is twice-fried for extra crispiness. That makes them delicious, but what makes this a french fry not to miss, are the house-made dipping sauces.
Leon pointed out that the fries are served in a cone for a street food feel. The cone has your napkins and a great little wooden fork to dig out the fries. It's great walk-around food in the summer. For winter, have a seat in the cool Public Market House.
Being a newbie to the Dutch fry, I asked which one I should get and Leon pointed me to the 'Special'. Fries come with curry ketchup (ketchup with a hint of curry for a seasoned taste) Dutch mayo (thinner, 30% less fat, and sweeter) with chopped onions.
Even Leon admitted that the chopped onions you would think wouldn't go - but you will be surprised at the perfect addition to this delightful treat. I sat myself down, grabbed my little wooden fork, and went to town on these fries. I was curious if in the middle of this ingenious cone, the sauces would disappear and I would be left with just french fries. Nope. Must be the cone shape!
It didn't take me long to get to the bottom of that cone. Enjoying every second of my first Dutch-style fry.
Opening day for The Frying Dutchman was Monday, January 17. They offered up free little mini ice cream cannolis with any order. I didn't hit them on opening day, but Leon was kind enough to give me a little cannoli anyway. Friggin' delicious too! Leon was here all alone prepping for the day of fries. Sorry, Dutch-style fries.
Leon was cool and very excited about his new venture with Cody Leland. They also worked together on a pop-up called Seven Seas Food & Co at the Fork Food Lab in Portland. They also have beignets and STROOPWAFELS (Wikipedia describes these as a waffle cookie made from two thin layers of baked dough joined by a caramel filling. Well known Dutch dish). I was so focused on the fries, I didn't even dip into the sweets. Oh, and if you are into secret menus, then be sure to follow The Frying Dutchman on Instagram. They will only announce their secret menu in their stories. I mean, it IS a secret. There are a million house-made sauces I have to try (kalamata olive, I've got my eye on you!), and who doesn't want a stroopwafel?
LOOK: Food history from the year you were born
From product innovations to major recalls,
Stacker
researched what happened in food history every year since 1921, according to news and government sources.
See How School Cafeteria Meals Have Changed Over the Past 100 Years
Using government and news reports,
Stacker
has traced the history of cafeteria meals from their inception to the present day, with data from news and government reports. Read on to see how various legal acts, food trends, and budget cuts have changed what kids are getting on their trays.