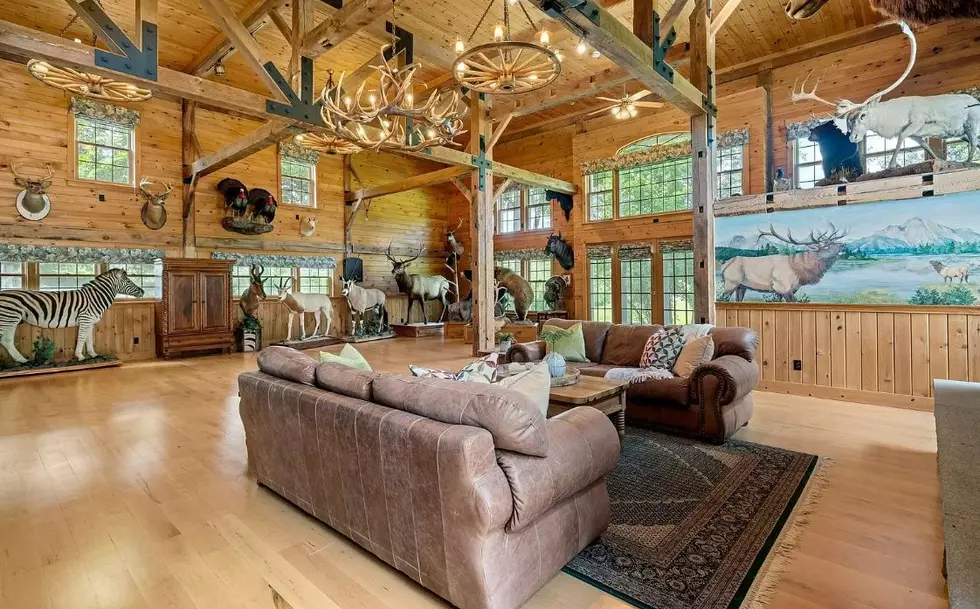 1820s New Hampshire Estate Stores Your Stuffed Zebras, Moose, and Bears, "Oh My!"
Via Zillow
Yes, your eyes saw correctly.
That is, in fact, a stuffed zebra in the living room of this incredible house.
No, you are not in a Bugaboo Creek. No, this is not the Rainforest Café. And this is certainly not the Longhorn Steak House. This 5,500 square foot home is really a dream for those looking to display all of their taxidermied animals.
I mean, you need to see how wide open this living area is. The fireplace is a perfect place to show off your most prized hunt. I should also mention the outstanding woodwork that went into the creation of the home. The inside looks like a log cabin-meets-MTV cribs.
The home rests on a six acre lot in Hooksett, New Hampshire. It features four bedrooms and three bathrooms.
Some may say the best part of the house is the view of the gorgeous Merrimack River. I would venture to say the best part is the space to put all your stuffed animals.
Real animals.
Please see below to get a good idea of what you can get taxidermied and place in this massive 1820s home.
Listed at $1.75 million, the home is up to date with central air, radiant flooring, and more unique qualities.
I cannot confirm nor deny if the stuffed animals come with the home. I would have to assume they do not; however, if a stuffed zebra, moose, or bear floats your boat, the worst thing you can get for a response is a "no."
Totally worth asking if you can keep a few.
Spacious 1820s New Hampshire Estate Is Perfect for Storing Your Stuffed Zebras, Deer and Bears
To see the entire home, set up a showing, or to learn more, click
here
.
Cassidy Vintage 1962 Bus
One of New Hampshire's most unique Hipcamp spots: A vintage 1962 School Bus. To make a reservation or see more check it out
here
.