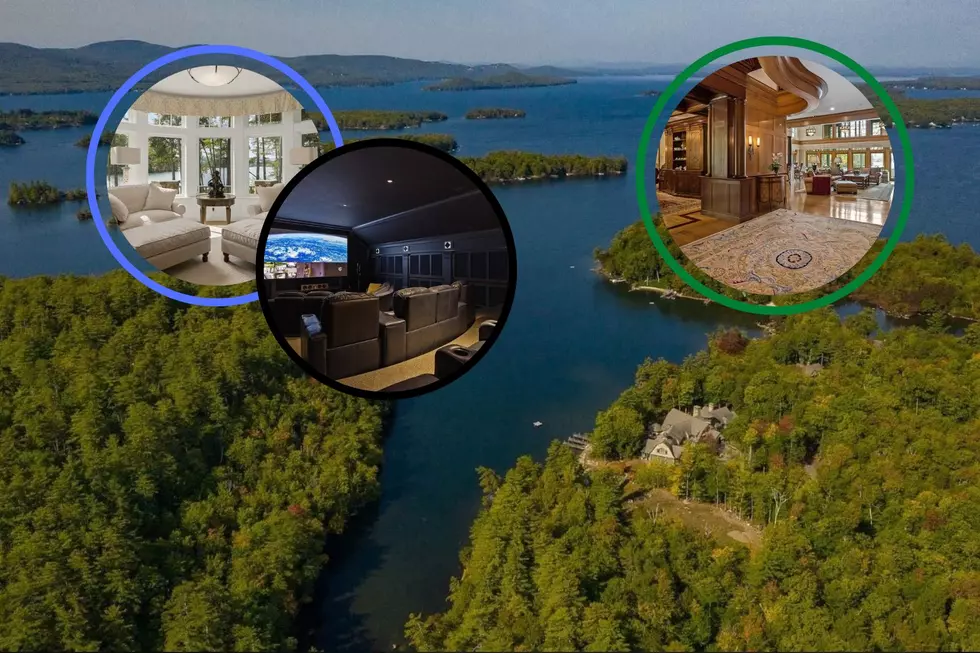 Magnificent, Multi-Million Dollar New Hampshire Lake House Set a State Sales Record
Jamieson Duston, Duston Leddy Real Estate
It's on one of the most sought after lakes to live and play in the country, so it's not really a surprise that this gorgeous, multi-million dollar, 18,000 square-foot home at 144 Springfield Point Road on Lake Winnepesaukee set a record for the most expensive home sold in the Granite State as of now.
Wait until you see the inside.  I've attached the gallery below, after a video of this magnificent, customized home.
Jamieson Duston of Duston Leddy Real Estate first listed the property at $19.5 million back in November of 2020, and sold it for $12.3 million.  That sounds like an incredible deal for this home, which flaunts a 15-seat theatre, 840 feet of private lake front property, and a mini beach.  The boathouse itself is the size of many homes at 3,000 square feet, with four boat slips.
By the way, it's called Lakeside Manor, and according to Jamieson, it's truly a once-in-a-lifetime property.
Offering nearly 18,000 square feet of exquisitely finished living space, the home features 37 rooms with elevator access to all four levels. There are 8 bedrooms and 11 baths, including a main level owner's suite, a 2-bed guest wing with its' own private entrance and lift, 4 additional bedroom suites and a custom built 8-bed bunk room for the kids.
There's also a spa, sauna, fitness center, and heated 6-car garage.
By the way, here's a video from the views of the architect and builder of Lakeside Manor.  Clearly, a lot of love went into this place.  According to Real Estate Guru Biz, Wolfeboro is one of the oldest summer resorts in the country, as many of us know. Today, it would cost at least $20 million to build a similar property like this one, which was built back in 2006.
Read On: Take a Peak Inside This $19.5M Lake House in New Hampshire
20 B-Sides That Became Big Hits
We're focusing on songs that charted separately, rather than so-called "double A-sides."