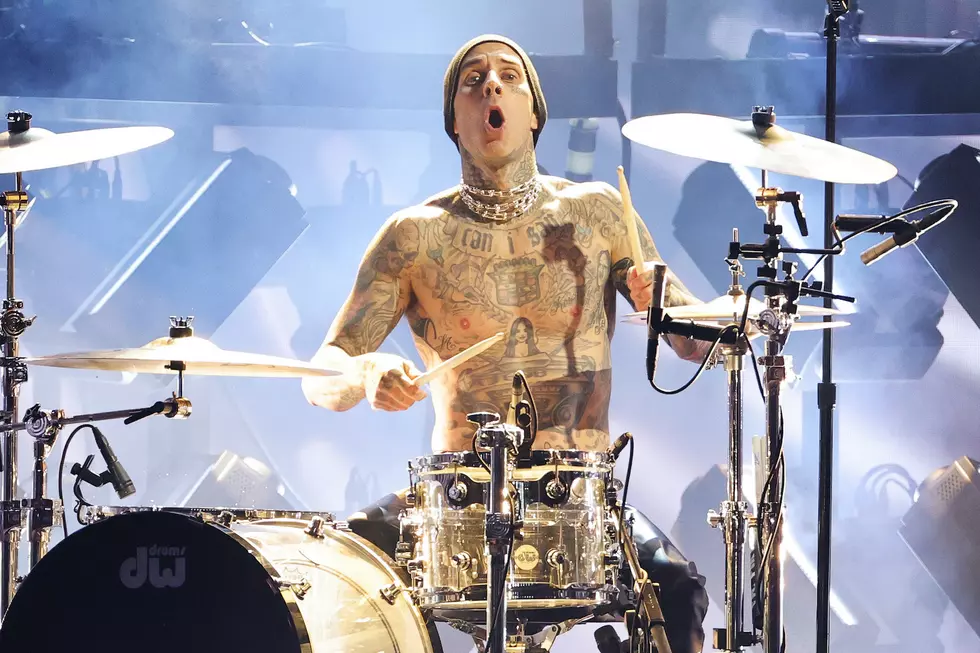 Blink-182 Fan Falls for Imposter Scam, Crashes Car Through Security Gate at Travis Barker's House – Report
Rich Fury, Getty Images for The Recording Academy
A Blink-182 fan who was reportedly deceived into believing she was speaking with drummer Travis Barker on social media crashed her car through the security gate at his house after several failed attempts to gain entry.
As reported by TMZ, the incident took place on Friday (April 21) and the woman driving the vehicle has since been arrested. Law enforcement informs the outlet that the woman is an apparent victim of an increasingly common scam in which online imposters contact fans of musicians, pretending to be a member of a particular band. Oftentimes, financial requests accompany these scam tactics.
In this instance, the woman is said to have been tricked into thinking that Barker had invited her to his house in a message exchange on social media. When she turned up at his Los Angeles home, she was reportedly denied entry "at least four times" and was instructed to leave.
Another attempt was made, however, and the fan elected to drive her car through the security gate at Barker's home while he was said to be off-site, rehearsing for Blink-182's second appearance at this year's Coachella festival. TMZ also notes the woman was arrested for trespassing.
READ MORE: Catfished Woman on 'Dr. Phil' Thinks Nikki Sixx + Bret Michaels Are Fighting Over Her
In addition to Blink-182's 2023 reunion tour with Tom DeLonge, it's set to be another big year for Barker. Blink are expected to release a new album after issuing the single "Edging" last year and his new reality TV show with wife Kourtney Kardashian, 'Til Death Do Us Part Kourtney & Travis, premiered on April 14.
See all of Blink-182's upcoming tour dates at this location and head here for tickets.
50 Greatest Pop-Punk Albums of All Time
Our picks for the 50 Greatest Pop-Punk Albums of All Time!