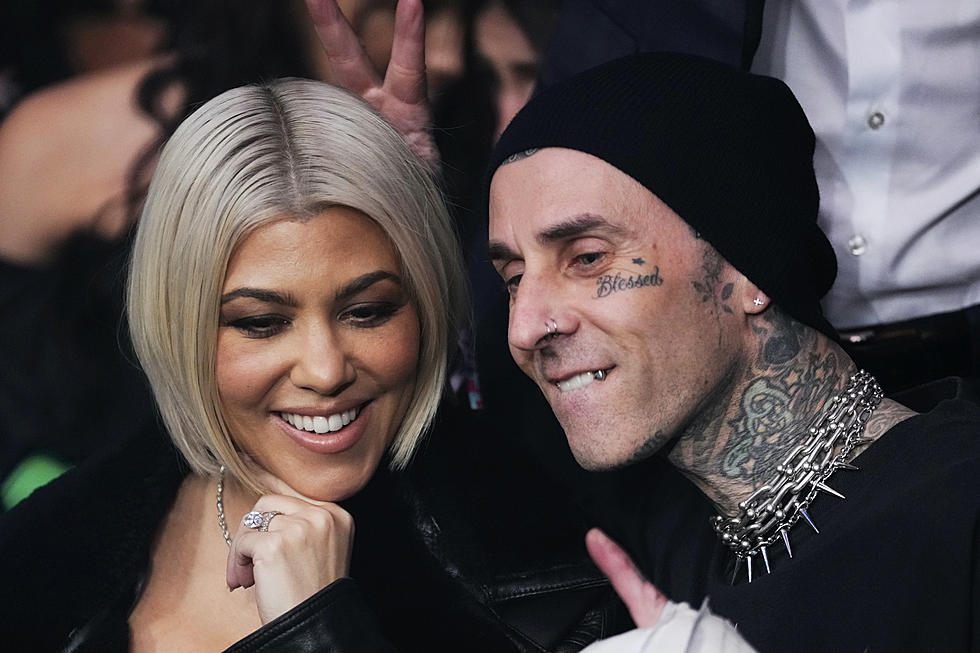 Travis Barker + Kourtney Kardashian Have Gender Reveal Party for Their Baby
Jeff Bottari / Zuffa LLC, Getty Images
Travis Barker and Kourtney Kardashian had a gender reveal party over the weekend for their expected first baby together.
The reveal incorporated the blink-182 drummer's musical skills while the celebrity socialite Kardashian sister sat on his lap. The two got married last year. Kourtney recently revealed the pregnancy at a blink-182 concert in a manner similar to an old blink-182 music video.
In the gender reveal video that each posted Saturday (June 24), Travis and Kourtney share the sex of their offspring with a celebratory confetti canon. Perhaps more of the gender reveal party will end up on the Kardashians' current Hulu series, The Kardashians.
Watch the clip near the bottom of this page.
READ MORE: Did Travis Barker Get Kourtney Kardashian's Eyes Tattooed on Himself?
According to TMZ, Travis and Kourtney's gender reveal occurred at what appeared to be a family gathering.
It's a Boy
In the vid, Kourtney sits on Travis' lap at his drum kit as they introduce the canon explosion with a drum roll. A voice that sounds like Khloe Kardashian is heard yelling, "Let's get the party started! We're all excited." We then find out the baby is a boy.
As Billboard reported, it is the first baby for Travis and Kourtney, who confirmed they were married on May 16, 2022, before hosting a lavish wedding in Italy on May 22, 2022. Both have children from previous relationships.
Travis Barker + Kourtney Kardashian
Travis and Kourtney got engaged in 2021 after a courtship that saw the blink-182 rocker and the Kardashian sister become a celebrity tabloid staple. That year, the pair were lampooned in an SNL sketch on an episode hosted by another Kardashian sister, Kim Kardashian.
The returning pop-punkers blink-182 — with Barker, Mark Hoppus and the prodigal Tom DeLonge all in tow — plan to release their first studio album together in a decade later this year. See blink-182's upcoming shows here. Find a list of currently touring rock bands here.
Sign up for Loudwire's newsletter and get the Loudwire app to stay up on the latest rock and metal news.
Travis Barker + Kourtney Kardashian Baby Gender Reveal Party Video - June 24, 2023
The Songs 30 Huge Rock + Metal Bands Only Played Live Once
Note: songs that were played as part of a medley and cover songs were not considered for this list. Only full performances of individual songs were taken into account.