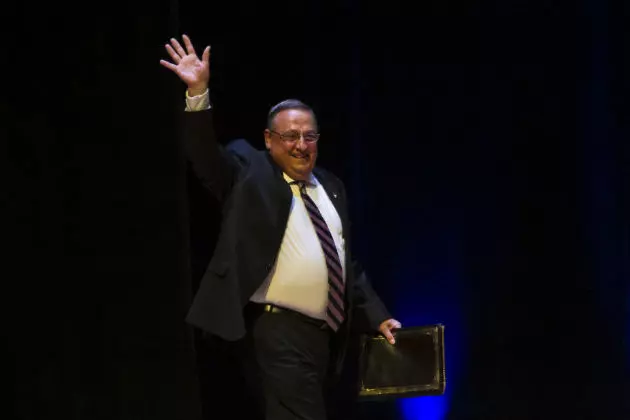 Governor LePage Has A Meltdown, Leaves A Fiery, Expletive-Laden Voicemail For Democratic Representative
Getty Images
Perhaps Governor Paul LePage has finally snapped. A shocking piece of audio surfaced late Thursday night that features Maine's famous governor called a Democratic representative from Westbrook a "c*ck s*cker" and a "son of a b*tch".
According to the Portland Press Herald, the voicemail stemmed from Gov. LePage being told that Rep. Drew Gattine from Westbrook had called him a racist. Gattine denied calling the Governor a racist but the notion left LePage steaming. He told the Portland Press Herald:
"When a snot-nosed little guy from Westbrook calls me a racist, now I'd like him to come up here because, tell you right now, I wish it were 1825 and we would have a duel, that's how angry I am. I would not put my gun in the air, I guarantee you, I would not be Hamilton. I would point it right between his eyes, because he's a snot-nosed little runt and he has not done a damn thing since he's been in this Legislature to help the state forward."
Gattine has been led spirited opposition to some of Governor LePage's welfare and drug enforcement reforms. He told the Portland Press Herald that the Governor's comments and his expletive-laden voicemail were "uncalled for."
Governor LePage has never shied away from leaving voicemails and deflecting public backlash. In 2010, LePage left a voicemail to a Beardsley supported that many publications called "menacing". However, this recent example may be LePage's most vile public demonstration since he took office.
Here is a transcript of the voicemail left for Drew Gattine:
"Mr. Gattine, this is Governor Paul Richard LePage. I would like to talk to you about your comments about my being a racist, you c*ck s*cker. I want to talk to you. I want you to prove that I'm a racist. I've spent my life helping black people and you little son-of-a-bitch, c*ck s*cker. You … I need you to, just friggin'. I want you to record this and make it public because I am after you. Thank you."