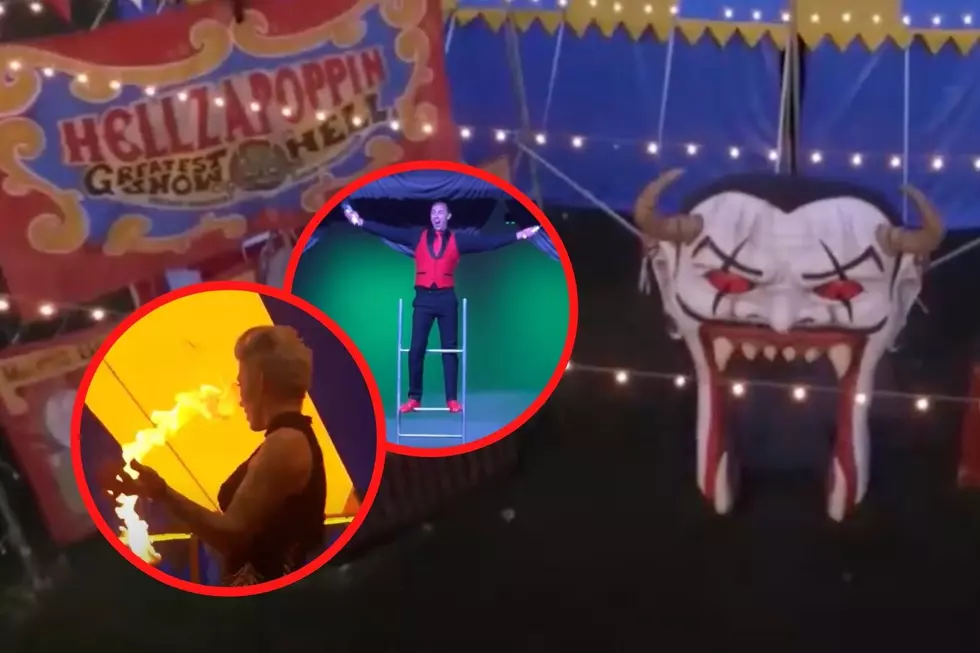 Hellzapoppin Circus Sideshow is Bringing the Strange and Unusual to New England

Hellzapoppin Circus SideShow Revue, Inc. via YouTube
There is a sideshow coming to New England that will have you facing your fears. Hellzapoppin Circus Sideshow brings back the concept of what was once known as a  "freak show," and will have you sitting on the edge of your seat as you witness the strange and unusual.
According to their website, Hellzapoppin Circus Sideshow was named after a successful Broadway Musical and Movie from the late '30s and '40s and is the world's largest international touring rock-n-roll circus sideshow.
Hellzapoppin Circus Sideshow is a show that contains music, lights, and is filled with extreme stunts, that I would dare not try myself.
We are talking fire-eating, acrobatic stunts, illusions, and sword swallowing as some of the stunts that are performed during the show.
There are some amazing performers that are a part of the sideshow.
According to Hellzapoppin Circus Sideshow, Lucian Fuller (a circus performer that has also toured with Cirque Du Soleil), Mr. Short E. Dangerously (a famous half-man that has been featured in Ripley's Believe It Or Not books), Ms. Willow Lauren (a former motorcycle stunt-rider now known as the Ballerina of the Blades), Mr. Eric Ross (a renown magician and stuntman), and Camille Zamboni (a contortionist and archer) will all be performing in the sideshow.
If you want to venture to see acts that some may think are impossible, the Hellzapoppin Circus Sideshow is definitely something you may want to check out. The show will be making an appearance in three New England states.
You can catch the Hellzapoppin Circus Sideshow in Massachusetts. Connecticut, and New Hampshire. You can find the tour dates below:
Wednesday, May 11th at The Vault Music Hall & Pub in New Bedford, MA.
Thursday, May 12th at the Webster Theater in Hartford, CT.
Sunday, May 15th at Wally's Pub in Hampton, NH.
You can purchase tickets and find more information here.
20 NH & MA Locations Featured on Ghost Hunting TV Shows
Go Inside Fall River's Lizzie Borden Bed & Breakfast
This infamous Fall River home has been sold to a ghost tour company. If you've never been inside before, here are all the rooms you can stay in and the haunted happenings that have taken place in them.