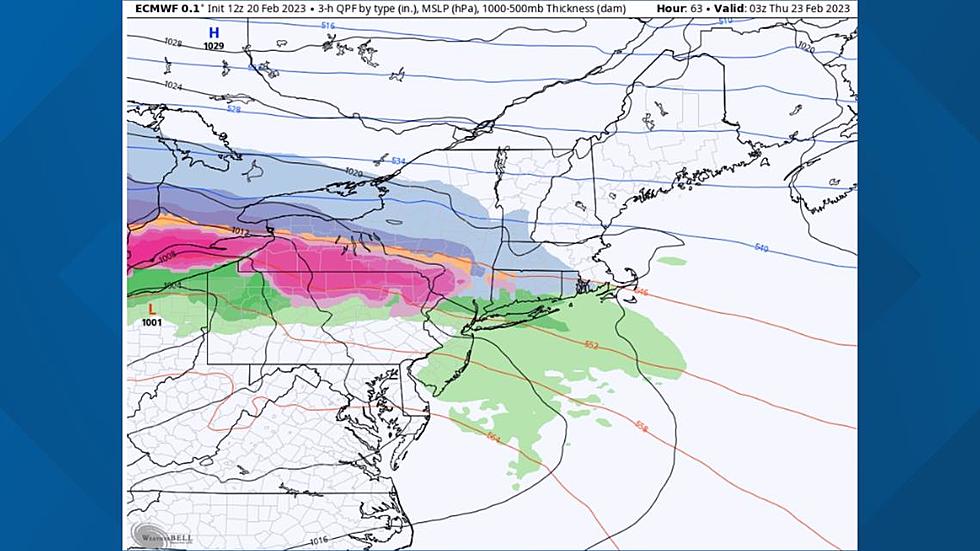 Just How Much Snow is Going to Bury Maine Thursday?
NewsCenterMaine.com
Did you put your shovel away? Go get it!
Get that sucker out! Because looks like we could see a foot of snow when it's all said and done. And it's going to take its sweet time too. It's not a quick hit of snow, it's a long 36-hour snowstorm. News Center Maine's Keith Carson broke it down for us. This is going to definitely be a problem for Thursday's am and pm commute.
Keith points out that we are all complaining because it truly feels like winter is over in Maine. It is not. We have been heading into the record books for one of if not the warmest winters on record for both Portland and Bangor! That has kept our snow totals well below normal. Keith Carson is a self-proclaimed weather geek, so this is very exciting to him. The reason it's such a long storm is that it's two waves of low pressure that follow so quickly it will feel like one gut punch.
Keith says that it should all start early Thursday morning when you are asleep around 2. It's the early morning when southern Maine really gets a beating. Then throughout Thursday into the afternoon, it eases up a bit. News Center Maine's Keith Carson says not to be fooled,
...it might feel like the back end of the storm ... like things are winding down. However, by Thursday night here comes the second wave of moisture. This one will likely target a bit farther north.
As with all predictions of the weather, this is Keith using all of his expertise and experience. Part of that experience is that one slight wiggle in a front and we are either looking at more sleet or snow further south - so stay tuned and be prepared for anything!
Here's What Mainers Really Think About Snow
From the mouths of Maine's own...