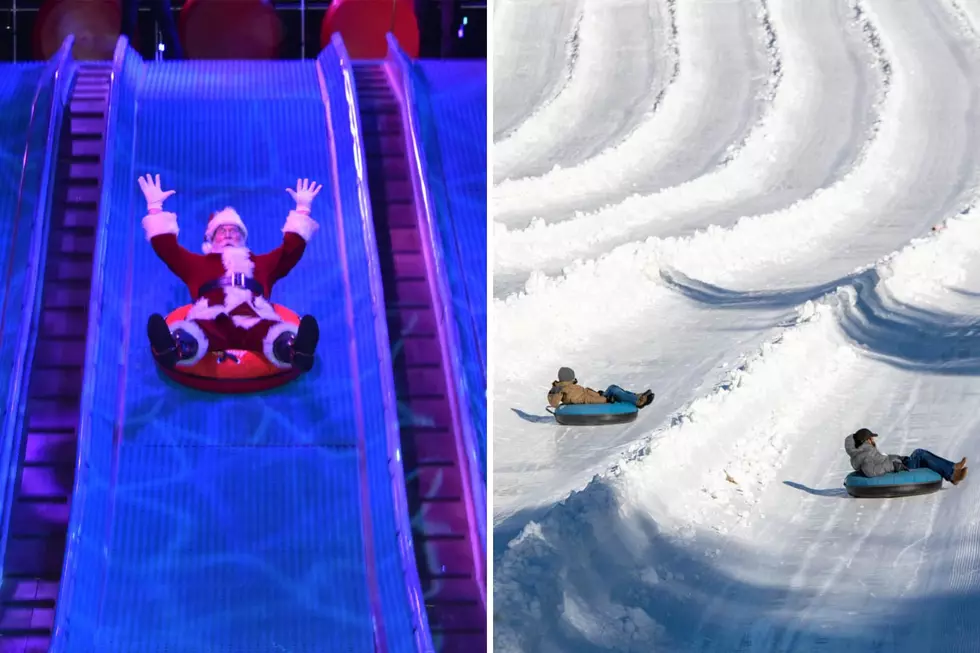 New England's 2 Largest Winter Tubing Parks Are in The Boston Area
Jordan's Enchanted Village/Nashoba Valley Tubing Park via Facebook
As you plan your winter outings to swoosh down a snowy slope on a fast-moving tube or you prefer to feel that speed indoors for the warmth of it all, I have you covered.
Let's start with the largest indoor winter tubing experience in New England since it's open now and back for its second year.  And hear me out on this because it's part of a tradition made for family fun.
In Avon, Massachusetts just south of Boston, Jordan's Furniture is in full tubing mode as well as a 4D Adventure Polar Express ride complete with a laser light show, a 4,000-square-foot indoor skating rink, photos with Santa, as well as games, fun characters, and displays with its Enchanted Village.
So as you can see, the three 72-foot-long tubing slides, the largest indoor tubing in New England, are just part of the Enchanted Village.
Now, for those who don't mind our New England cold, Littleton, Massachusetts around 40 minutes south of Nashua, New Hampshire is Nashoba Valley where you can experience some pretty serious snow tubing at New England's largest outdoor tubing park.  It's not open yet, but get it on your calendar because they should announce the 2022-2023 winter season soon.
Once it's open you have 18 lanes of tubing so the lines move just about as quickly as the tubing.  You can even tie tubes together for some group fun because the lanes are so wide.  And to top that off, you can tube at night.
Click here for your indoor tubing fun and bookmark here for your outdoor tubing extravaganza.
Best Meals From New Hampshire Only Restaurants
We set out to find the best meals in New Hampshire. The Question: if you had one last meal at your favorite New Hampshire restaurant, what would the meal be and from where?
Gallery Credit: Logan
Ski These 9 New England Mountains for Under $100
Looking for a place to go skiing that won't break the bank? Check out these ski mountains in New England.
Gallery Credit: Jolana Miller