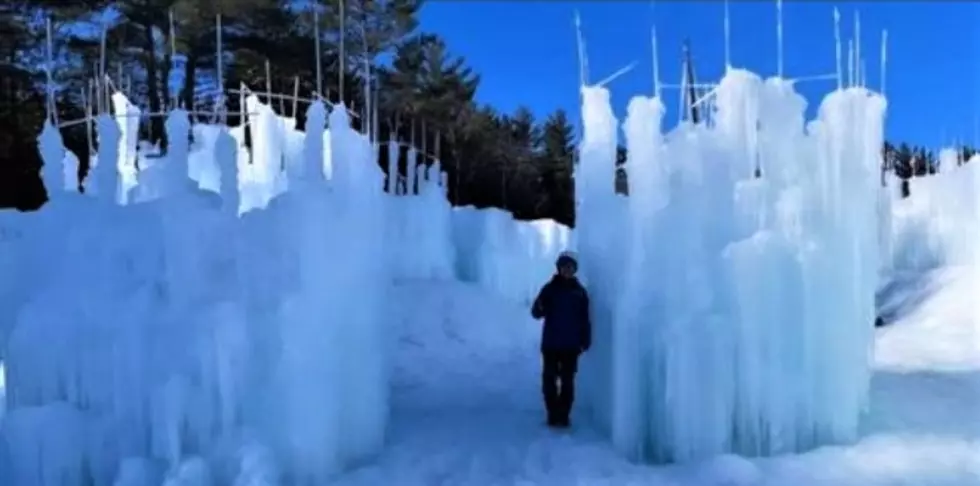 New Hampshire Ice Castles Can't Open Right Now for 2023
Ice Castles
It's that magical dream adorned by so many, whether it's annual visits with friends, traditional family outings, or that place you've been meaning to visit, and 2023 is it.  However, don't plan this mesmerizing outing just yet.
According to the Ice Castles website, the slated opening of Thursday, January 19 couldn't happen, and we can blame the weather.  It's not something you often hear in January in New England, but our winter weather has been just too warm overall.
The opening dates are always tentative anyway, because building the ice castles is a miraculous, beautiful undertaking in itself. As we know, cold weather is a key source to making the New Hampshire ice castles in North Woodstock glisten and gleam with all their glory.
The Ice Castles told NBC Boston that the plan right now is to open at the end of January or early February, but we all must stay tuned.  Anyone that bought tickets can reschedule or get a refund.
This most definitely isn't the way that the Ice Castles wanted to kick off its Happy 10th Anniversary in New Hampshire, which includes a bar this year.  But don't worry, Ice Castles says that unless Mother Nature plans to stick with above freezing temperatures, including those random 40's and 50's for the rest of the winter, there will be an opening. And let's be honest, this is Northern New England we're talking about, so there's no way that's happening.
You can jump online and still buy tickets starting in February if you want. You can also wait for the official announcement that the castles are open to the the tens of thousands who visit during the season, which usually runs mid-January through March.
And when it does open, get ready for the ice slides, crawl spaces, illuminated fountains, an ice bar with adult beverages, horse-drawn sleigh rides, ice sculpture garden, and the fair village.
With just five in the entire country, along with Utah, Minnesota, Wisconsin, and New York, I think it's safe to say that although Mother Nature is letting us down, we know New Hampshire's Ice Castles won't when they're finally open for the 2023 season.
Amazing Theme Park Rides Based on Movies That Were Never Built
10 TV Actors Who Were Replaced For Controversial Reasons
These actors were replaced from hit shows under clouds of controversy.