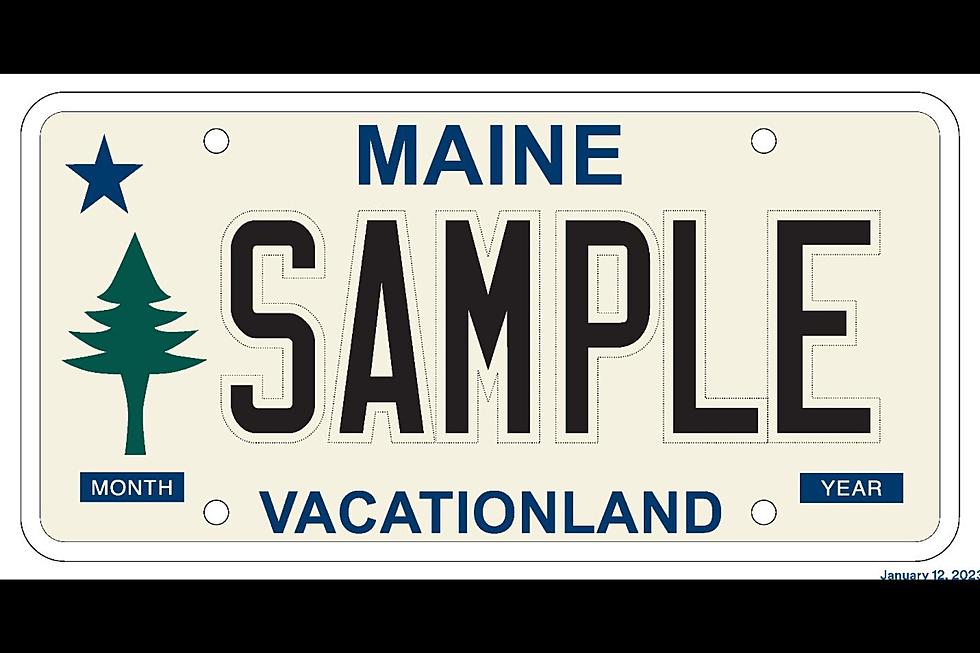 New Maine License Plate in the Works is Unquestionably Beautiful
Maine Department of the Secretary of State
Maine's automobiles may have a new look soon if the Bureau of Motor Vehicles new proposal gets the go ahead.
The proposed license plate design jumps on the old flag bandwagon. It joins the countless paraphernalia that's already used the awesome 1901 flag, like hats, shirts, and stickers.
According to a release from the Maine Department of the Secretary of State, the proposed conifer license plate would replace the chickadee plate as the standard for Maine. The chickadee plate has been used since 1999, when it replaced the lobster design.
Maine's Secretary of State Shenna Bellows expressed the excitement about this proposed change in the release.
 "License plates serve not only to identify vehicles but are a way of expressing our love for our state," Secretary of State Shenna Bellows said. "We're excited to present this new design proposal for the coming license plate reissuance."
I can't agree more with Secretary Bellows. This design is absolutely perfect. There are few things in this world I like more than the updated 1901 Maine flag. It's so unique in its simplicity. To see it in license plate form is a dream come true.
As for the chickadee, don't let the door hit you on the way out. I can't think of a more boring and downright lame license plate. To take it even further, I can't think of a more boring or downright lame bird. It's bad enough the little dorky nothings are our state bird, especially when this state is full of much more interesting and prettier birds, like puffins, eagles, albatross, blue jays, loons (love the loon plate), or pretty much any bird not named chickadee.
We should soon see how much support this new design receives. The next step is for the proposal to go to the transportation committee before heading to the full legislature.
If the proposal needs serious public support, I suggest they call me up. I would gladly start a promotional drive for this very perfect future license plate. And while we're at it, can we please just bring this back as our flag? The current one is such a boring abomination.
25 Celebrities Who Have Owned Homes In Maine
From Kittery to Islesboro, some of Hollywood's biggest names have owned homes in Maine. We explore the who and where.
20 Portland, Maine, Restaurants That Have Been Featured on National Television Shows
Here's a list of 20 prominent Portland, Maine restaurants that have been featured on national television shows. This is a great representation of Portland's incredible food scene.