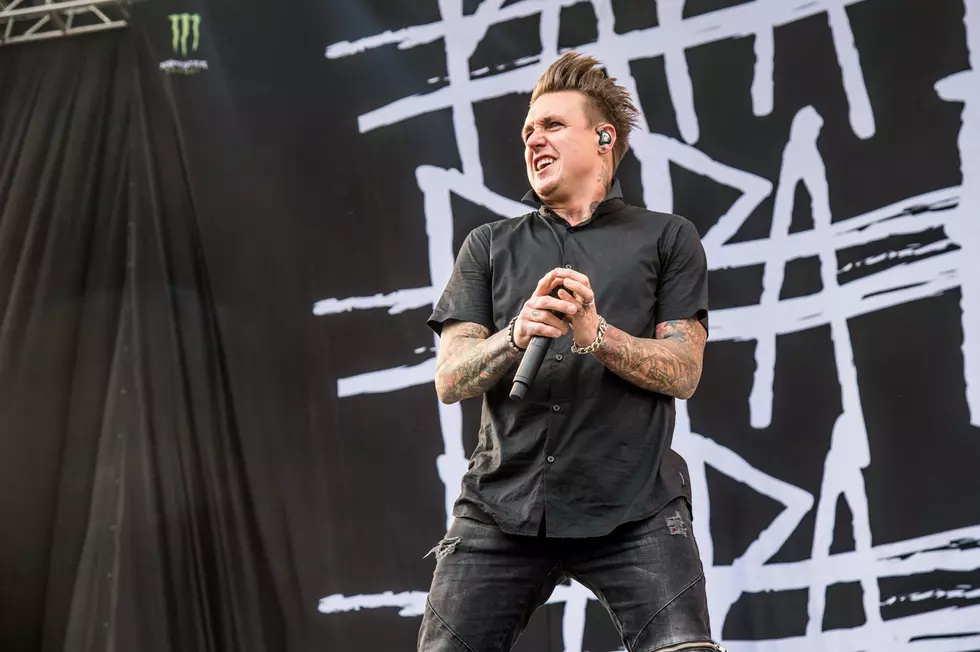 Papa Roach Drop New Song, Detail 2019 Album 'Who Do You Trust?'
Amy Harris for Loudwire
In early October, Papa Roach dropped a pair of new songs — "Who Do You Trust?" and "Renegade Music," but remained mum on the details of their new album. Now, they've released another new track, "Not the Only One" (heard below), and have confirmed the record will be called Who Do You Trust?
It comes out on Jan. 18 through Eleven Seven, will feature 12 new songs and the album art and track listing can be seen toward the bottom of the page. As for "Not the Only One," it's a dynamic cut with an anthemic feel driven by an upbeat acoustic passage at first. When the chorus come, Papa Roach do a 180 with lunging rhythms and pitchshifted vocals that lean more into the hip-hop realm than the alt-rock styling of the verse.
"It's a little frightening in a sense at times - like, 'Oh, man. Are people gonna get it?'" said frontman Jacoby Shaddix about the album over the summer. "But then we still have the core sound of the band on the record as well. There's a few songs that we're challenging our fans, like, 'Hey, are you gonna come down this road with us?' And the material we're writing we just feel is just great — it's so inspiring and just unique and different and rocking and anthemic and passionate," he continued.
"It's, like, undeniable. I feel like when we wrote the album Getting Away With Murder [2004], it was a pretty bold evolution for the band, especially with a song like "Scars" at the time for our band. Now when you think of "Scars" and Papa Roach, that's like the norm; that's who we are. So I'd say the evolution is comparable to that," the singer summed up.
Papa Roach, Who Do You Trust? Album Art + Track Listing
1. The Ending
2. Renegade Musi
3. Not The Only One
4. Who Do You Trust?
5. Elevate
6. Come Around
7. Feel Like Home
8. Problems
9. Top Of The World
10. I Suffer Well
11. Maniac
12. Better Than Life
Shinedown, Papa Roach, Asking Alexandria 2019 Tour Dates
Feb. 20 - Estero, Fla. @ Hertz Arena
Feb. 23 - Knoxville, Tenn. @ Knoxville Civic Auditorium
Feb. 24 - Huntington, W.V. @ Big Sandy Superstore Arena
Feb. 26 - Dayton, Ohio @ Nutter Center
Feb. 28 - Baltimore, Md. @ UMBC Fieldhouse
March 1 - Hershey, Pa. @ Giant Center
March 2 - Uncasville, Ct. @ Mohegan Sun Arena
March 5 - Youngstown, Ohio @ Covelli Centre
March 7 - Ft. Wayne, Ind. @ Allen County War Memorial Coliseum
March 8 - Milwaukee, Wis. @ Fiserv Forum
March 9 - Green Bay, Wis. @ Brown County Veterans Memorial Arena
March 11 - Minneapolis, Minn. @ Target Center
March 12 - Fargo, N.D. @ Fargodome
March 15 - Lincoln, Neb. @ Pinnacle Bank Arena
March 16 - Cedar Rapids, Iowa @ U.S. Cellular Center
March 17 - St. Louis, Mo. @ Chaifetz Arena
March 19 - Wichita, Kan. @ Intrust Bank Arena
March 20 - Loveland, Colo. @ Budweiser Events Center
2019's Most Anticipated Hard Rock + Metal Albums