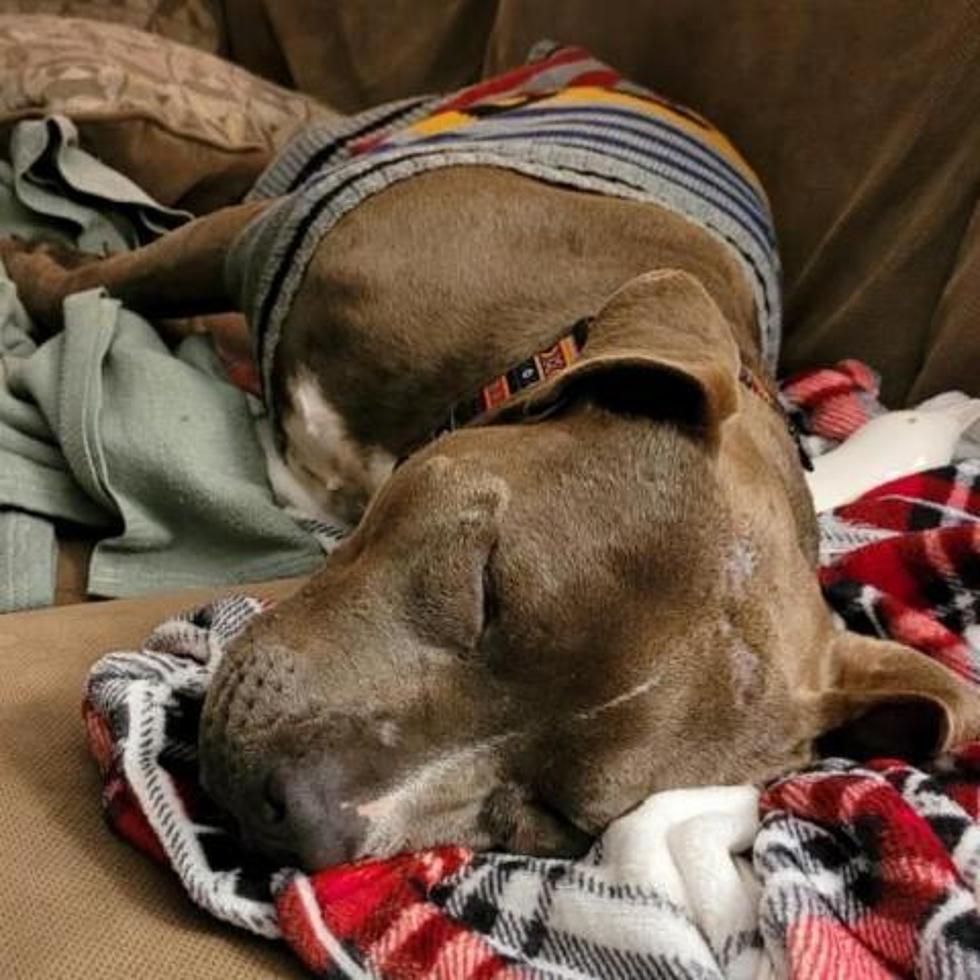 PICS: Pit Bull Rescued From a Kill Shelter is Looking for Her Maine Forever Home
Pittie Posse Rescue
Brynn, an adult female Pit Bull Terrier, was rescued from a kill shelter in New Mexico.
She's had a hard life. Harder than she deserves, or any dog deserves. But Pittie Posse Rescue and Sanctuary here in Maine rescued her and wants to find this sweet dog her forever home.
Brynn was found in New Mexico with a broken-off rope knotted around her neck. She was infested with ticks and was so, so afraid. Pittie Posse stepped in to save her and had her brought to Maine. She is a new arrival, and loving her foster family. She's really opened up.
She had to have TEN painful, broken teeth removed. They also found clear evidence of past trauma on both of her front paws.
But as she was settling in, her foster family noticed something was wrong with her teeth. She had to have TEN painful, broken teeth removed. They also found clear evidence of past trauma on both of her front paws.
Despite all of this, Brynn is still the sweetest girl, with soulful, hopeful eyes. She's really coming out of her shell! Her foster says,
She didn't know how to dog inside a house at first! Slick floors are still a little scary for her, but she's such a happy girl and her personality just shines!
She's a big fan of naps, squeaky toys, and snuggles on the couch!
Brynn is about 4 years old. She does well on her leash. She ADORES kids - she is a total mama dog with them! She has not been tested with cats.
Pittie Posse Rescue is a passion project for a couple who loves what they do and they are dedicated to making it a place that rejected dogs can count on. Of course, your help in keeping the going is always appreciated. They also have the Pittie Posse Pet Pantry that is always in need of supplies Please help in any way you can.
Let's make this the best holiday possible for Brynn!
LOOK: Here are the pets banned in each state
Because the regulation of exotic animals is left to states, some organizations, including The Humane Society of the United States, advocate for federal, standardized legislation that would ban owning large cats, bears, primates, and large poisonous snakes as pets.
Read on to see which pets are banned in your home state, as well as across the nation.
RANKED: Here Are the 63 Smartest Dog Breeds
Does your loyal pup's breed make the list? Read on to see if you'll be bragging to the neighbors about your dog's intellectual prowess the next time you take your fur baby out for a walk. Don't worry: Even if your dog's breed doesn't land on the list, that doesn't mean he's not a good boy--some traits simply can't be measured.