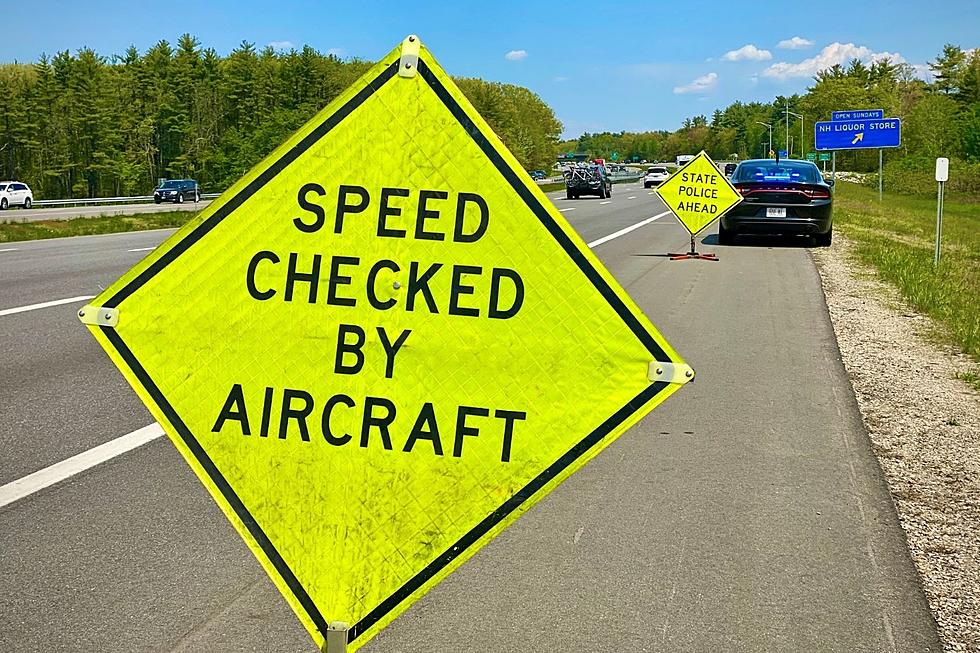 Racing Towards Summer: NH State Police Nab Another 40 Speeders
Warning sign on I-95 (Jeff Hastings via NH State Police)
New Hampshire State Police were looking for speeders and aggressive drivers on Interstate 95 for the second Sunday in a row less than a week before the Memorial Day weekend.
The State Police Special Enforcement Unit was on the New Hampshire Turnpike in Hampton Falls on Sunday and Interstate 93 in Bow on Saturday between 7 a.m. and 11 a.m. and made 110 stops between the two details.
40 drivers were stopped for doing at least 90 miles per hour including nine clocked at over 100 miles per hour.
Two drivers were allegedly traveling over 115 miles per hour.
State Police Sgt. Christopher Storm told Seacoast Current that 60 stops were made on Route 95.
21 drivers were stopped for going over 90 miles per hour and four were allegedly traveling at speed of over 100 miles per hour.
A week before the same unit made 121 stops on I-95 alone with 56 motorists stopped for speed violations in excess of 90 miles per hour.
Ten motorists were issued a summons for reckless operations after being clocked at traveling over 100 miles per hour, including three in excess of 115 miles per hour.
State Police aircraft, which is part of the enforcement unit, will be out during the upcoming holiday weekend watching the roads during the Memorial Day weekend.
If this weekend with full restaurants on the decks in Portsmouth is any indication, Chamber Collaborative of Greater Portsmouth President Valerie Rochon expects a very busy Memorial Day weekend on the roads headed to the Seacoast.
"If Mother Nature cooperates, it is going to be absolutely back on track. Between vaccinations, pent-up demand and fifty-something restaurants on the streets providing dining, it's going to be a tsunami of tourists on the Seacoast and Portsmouth," Rochon told Seacoast Current.
AAA Travel expects 37 million people to travel 50 miles or more from home during the Memorial Day holiday weekend from May 27 through May 31, an increase of 60 percent from 2020 when only 23 million hit the road during the pandemic. It was the lowest on record since AAA began recording in 2000.
Contact reporter Dan Alexander at Dan.Alexander@townsquaremedia.com or via Twitter @DanAlexanderNH
Portsmouth and the Seacoast Prepare for Summer 2021
With COVID-19 vaccinations on the rise and the number of new cases falling Gov. Chris Sununu is optimistic about the prospects for a good summer for travel and tourism. Valerie Rochon, president of the Chamber Collaborative of Greater Portsmouth shares the governor's enthusiasm for a strong summer season.
ft