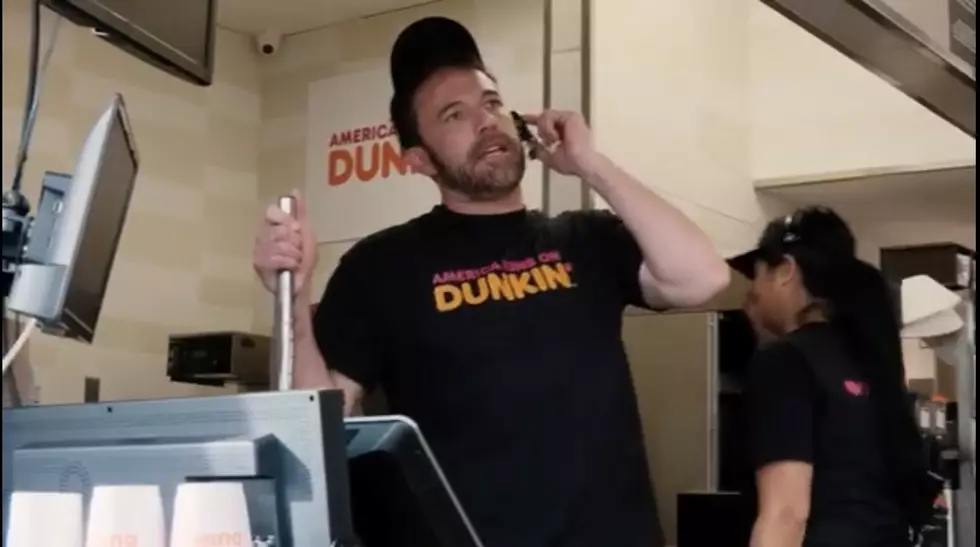 See the Outtakes From Ben Affleck's Dunkin Super Bowl Ad Shot in Massachusetts
Dunkin via YouTube
With an assist from J-Lo, Ben Affleck managed to do the seemingly impossible: star in a Super Bowl ad everybody already knew about, and still come away one of the night's big winners.
After years of viral photos showing the Cambridge, Massachusetts, native leaning down to pick up his morning Dunkin' delivery in Los Angeles, the "blue Batman" worked the drive-thru of a Medford Dunkin' until Ms. Lopez arrived and requested a glazed.
But in case you missed it, Affleck wasn't just acting; he really did work a drive-thru in Medford. And as the commercial's outtakes reveal, the gig proved to be challenging at times.
They begin friendly enough, as one gentleman immediately recognizes the heir apparent to Fred the Baker. A second woman also reacts with enthusiasm.
Then Affleck makes the classic mistake of putting his hands just a bit too far into a customer's car, resulting in coffee spillage. Then, Affleck tries to channel David Letterman's classic drive-thru remotes from the '90s, telling a customer the store is out of all coffee and donuts.
As he admits, Affleck relearns in this moment that comedy can be quite difficult as he draws a stoic response from another customer along with some…er, Massholisms.
You can almost see the fear in Affleck's eyes in real time, as he grows to accept that he is poking at New Englanders who just really want their Dunkin'.
However, Affleck's ad seems to have been met with approval from The Master himself. Soon after airing, Letterman released a recut version.
8 Hilarious Saturday Night Live Skits That Feature New England
25 Classic Commercials Featuring Legendary New England Athletes
Long before Gronk was kicking field goals, athletes from the region appeared in these classic TV ads.