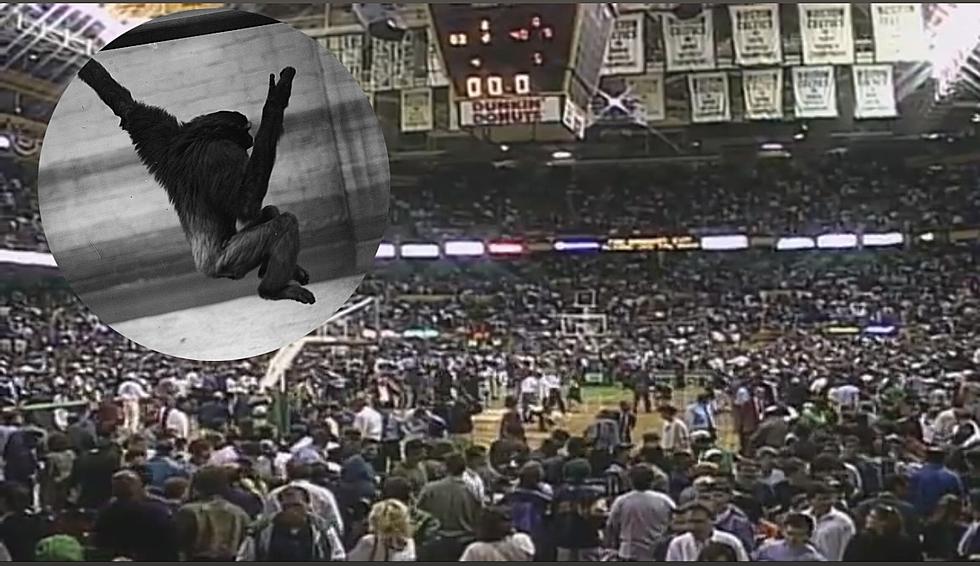 Swinging From the Rafters: The Legend of the Boston Garden Monkey
Photo Credits: Getty Images & Dan Arruda via YouTube.
You'd think that when it comes to mysterious monkeys, New England has never faced a more frightening creature than New Hampshire's Devil Monkey of Danville. But for many years, tales persisted of another primate haunting a storied building in Boston.
In addition to Celtics and Bruins games, the Boston Garden hosted everything from boxing and wrestling matches to concerts and the ice capades before it closed for good in 1995. Also on the docket each year: the circus.
That detail grew especially important in 1998 during the Garden's demolition, when rumors began to circulate that construction crews had found a monkey above the famed rafters that once held countless championship banners and retired numbers.
Boston Globe reporter Judy Rakowsky began doing some research, and found that in 1937, several monkeys had gotten loose…during the circus at the Boston Garden. Speaking to ESPN, late Celtics Hall of Famer and broadcaster Tommy Heinsohn summed it up perfectly:
"It's a fun story. They conjured up a whole bunch of things that happened in the old Garden. Why not a monkey in the rafters?"
While many remained skeptical that a monkey could survive for any considerable amount of time, leave it to the ever-optimistic Heinsohn to surmise that it lived off of food and beverages left behind by fans.
Two decades passed, and the Boston Garden Monkey remained a fun urban legend. Until the Globe's Perry Eaton received a tip that made Boston go bananas.
Go here if you want to read the amazing – but kinda sad – truth about this creature. Or, you can choose to look at it the way I do: this monkey lived a life that would make other monkeys wicked jealous.
According to Encyclopedia Britannica, some monkeys can live up to 60 years. That means that the Boston Garden monkey not only got a firsthand view of Bill Russell, Bobby Orr, Larry Bird and Ray Bourque; it got to see Elvis, The Beatles, The Rolling Stones and James Brown.
It got to see Rocky Marciano, Marvin Hagler and Sugar Ray Leonard.
It got to see Hulk Hogan, Andre the Giant, and Macho Man Randy Savage.
It got to see President Franklin D. Roosevelt's 55th birthday celebration. And it got to see John F. Kennedy speak the day before he was elected President in 1960.
That's at least two presidents, five Stanley Cups, 16 NBA Championships and just about anyone and everyone that's made it to the Rock and Roll Hall of Fame. The Boston Garden Monkey lived a full and fun life.
But one question remains: do you think they took away its bottle caps?
10 Strange New Hampshire Unsolved Mysteries
These Are Maine's Wildest Urban Legends That You Probably Didn't Know
Who knew that in our own backyards lies myths of brutal hauntings and legends of terror beyond our wildest imaginations? Let us begin.