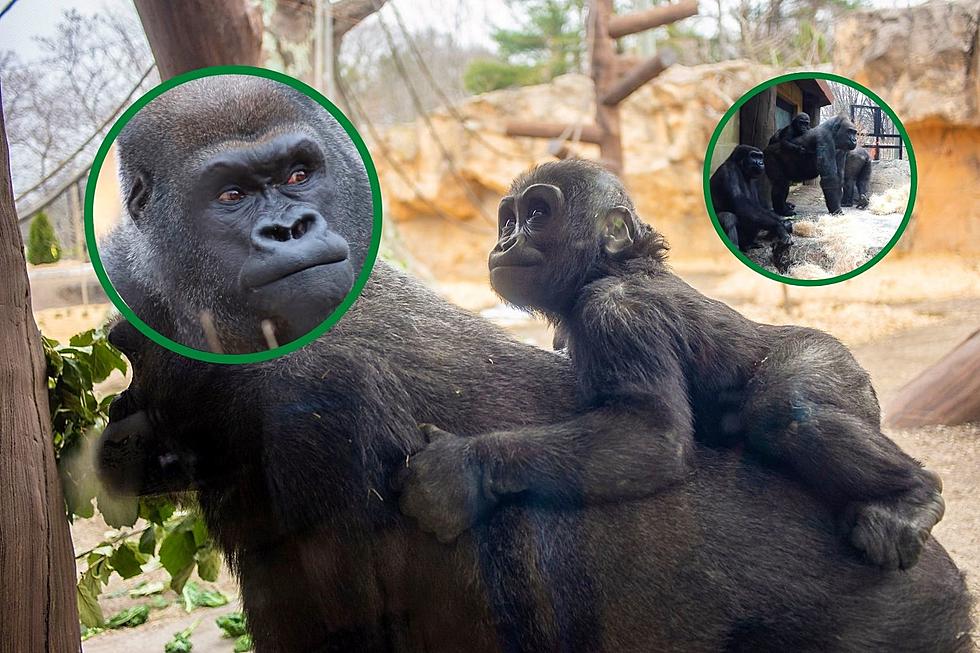 Video: These Endangered Gorillas Are Now Part of Zoo New England Boston
Franklin Park Zoo Facebook
Are you ready to meet Joe, Kitombe and his mate Kiki, along with their three children Kambiri, Azize, and Pablo?  The Franklin Park Zoo in Boston is their new home as they settle into their new $9 million state-of-the-art gorilla habitat.
Zoo New England
announced on its
Facebook page
and through a press release that the new habitat is open to us, and is an incredible opportunity to learn more about these endangered primates.
It's called Gorilla Grove, and Zoo New England says it offers a 360-degree view of the gorillas so we can take in everything as well as give these endangered primates an open flow habitat.
Zoo New England adds that its support of gorilla conservation is immensely dedicated to the expertise, focus, and resources needed to support the study and life of these gorillas. That's why Gorilla Grove was built to be so engaging for us as well as Joe, Kitombe, Kiki, Kambiri, Azize, and Pablo.
Zoo New England says Gorilla Grove is a mix of real and fabricated trees, climbing vines, and various built-in foraging opportunities. Observation and education come easily as we observe the natural behaviors of this gorilla troop like never before.
In a press release, Zoo New England President and CEO John Linehan said Gorilla Grove is about us and them.
We strive to reach peoples' minds through their hearts to build empathy for wildlife and their natural habitats.  As you observe the tender moments between a gorilla mom and her baby, or gorilla siblings playing together, you develop a better understanding of the family dynamics and social structure of these animals. Through this opportunity, guests can also better understand the importance of biodiversity and ecosystem health.
Plan that visit here.  And check out this video of them as they acclimate to their new home.
This $30 Million Water Front Beach House on Cape Cod is an Oasis
LOOK: What are the odds that these 50 totally random events will happen to you?
Stacker
took the guesswork out of 50 random events to determine just how likely they are to actually happen. They sourced their information from government statistics, scientific articles, and other primary documents. Keep reading to find out why expectant parents shouldn't count on due dates -- and why you should be more worried about dying on your birthday than living to 100 years old.