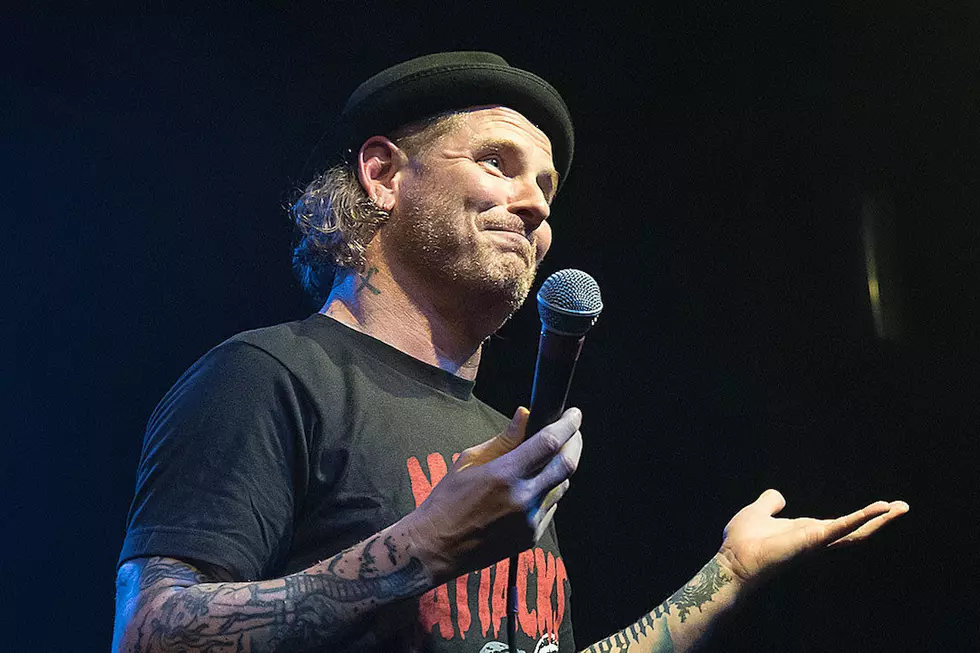 Why Corey Taylor Doesn't Want Slipknot's 'Look Outside Your Window' to Be Released
Maria Ives, Loudwire
For Slipknot fans, the oft-mentioned but never released Look Outside Your Window album remains something of great interest, but the long delay in finishing and releasing the more experimental album has only added to the expectations for the record, with vocalist Corey Taylor now wondering if it's a good thing for the record to ever be released.
For those who need a refresher, the album was recorded at the same time the band was laying down 2008's All Hope Is Gone album, with Shawn "Clown" Crahan, Taylor, Sid Wilson and Jim Root supposedly taking the lead on what's been called a more experimental Slipknot effort. The band is purported to have recorded 11 songs while utilizing more unique recording techniques. Though they were recorded at the same time, only one Look Outside Your Window session song ended up attached to All Hope Is Gone. "Til We Die" turned up as a special edition bonus track for the record. In the time since, there has been much speculation about the album's release, with it even once considered for a Christmas 2019 release that came and went.
While speaking with NME in a wide-ranging interview, Taylor addressed the status of the long-anticipated Look Outside Your Window album. "Look Outside Your Window is Clown's baby. Slipknot is Clown's baby," said Taylor when asked about the record. "I punch a clock and then I punch out."
He then revealed that even he's not sure the current state of the record. "It's so funny, every year or two I get an email about Look Outside Your Window and how it's coming out. I'm just as stoked as everybody else because dude, I don't even have a copy. I have a version from 10 years ago that I don't even think is the same mix that they're dealing with. I don't even fucking know the songs are going on this album, that's how out of the loop I am," said the singer.
Taylor then downplayed his role in the album, explaining, "I was a guest star on that album anyway, so your guess is as good as mine. It's so fascinating that something that started as a demo has become the Holy Grail. If you only knew how that album came about and the pain it caused."
He continued, "I hope people dig it but I honestly hope it never gets released because there are so many expectations about it now. It's like that Wu Tang Clan album that only whathisfuck (Martin Shkreli) has a copy of. It's almost better to just wonder."
READ MORE: Slipknot Have 'A Couple' of Unreleased Albums, Says Jim Root
While Taylor appears to be uncertain of how it all turned out or when it will arrive, the band's percussionist Shawn "Clown" Crahan earlier this year suggested a potential timeline, coinciding with the end of the band's long-running label deal.
"The good news is that, six months from now, April Fool's Day 2023, we're off the label. There are no plans to immediately release something, and we haven't talked about it, but I would imagine it'll probably come very soon afterwards. There's nothing else to do, and it's ready to go. It'll be worth the wait," Clown told U.K. rock publication Upset Magazine back in January.
Clown told Upset, "It's an amazing body of work. You will never hear another Corey Taylor like this. The music and the words… it's one of the best things I've ever done in my life." The percussionist further shared that the lost album has not been unleashed yet even after attempts in 2019 and 2020 as the band didn't want it to be just a blip on the radar in the midst of all their other studio albums.
"We wouldn't want Slipknot to hurt Look Outside Your Window, and we wouldn't want Look Outside Your Window to be a little irritation to Slipknot. Why? Because it's beautiful God art and people deserve it," he added.
Indeed, scheduling has been a major factor in the band holding off on the release. In an April 2021 interview, Clown revealed that the album had been mixed and mastered and was "ready to go," but the band wanted the record to be "properly prioritized." "It's up to everyone to sort of shut their mouths and not make it confusing," he said at the time. "It was created because we wanted to create art, and we did, and it ended up being something that everybody's going to want, and they're going to get it when it's right."
While the Look Outside Your Window album release remains a mystery, Slipknot will be back on the road this year. Get your tickets to see the band here.
Every Slipknot Song Ranked
Push your fingers into your eyes.
*Last updated July 29, 2022. We still need time with the rest of the new album!