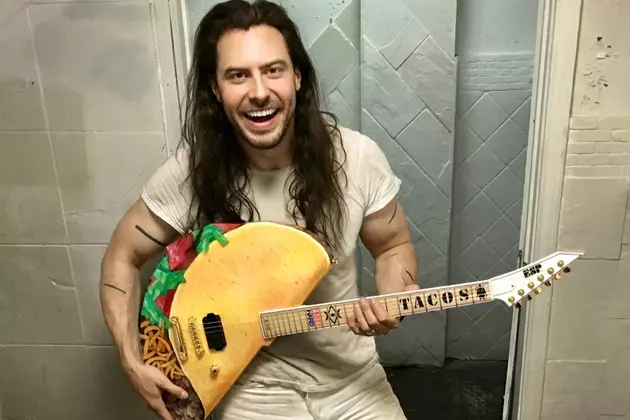 Andrew W.K. Unveils ESP Taco Guitar for National Taco Day
Photo by Gregg Roberts
Were you aware it was National Taco Day today (Oct. 4)? Andrew W.K. was, and he's been preparing something special to mark the occasion, unveiling his brand new Taco Guitar. W.K. had the instrument custom made by ESP Guitars as he continues in his quest to create the most "party" things in the world.
"I started pondering, what's another food that's as party as pizza? When it comes to edible celebration, tacos are partier than almost anything else. Pizza and tacos are among the partiest foods on the planet, and I realized that since I had paid musical tribute to pizza, I now had to pay musical tribute to tacos. I was destined to make a taco shaped guitar - it was inevitable," stated the musician.
He continued, "This is proof that if you have the vision, no matter how outlandish or unruly, the team at ESP Guitars can turn that vision into reality. And they do it using the highest quality materials - the highest quality craftsmanship. ESP has absolutely mind blowing attention to detail and they put playability at the top of their instrument's many attributes. There's no compromise when it comes to the integrity of this instrument, and there's no softness when it comes to the hardness of my party."
W.K. didn't just stand back and wait either, choosing to hand paint the guitar himself. As you can see in the photos provided, it now looks like a ground beef taco on the front side (complete with cheddar cheese, chopped lettuce and diced tomatoes), while he's painted a turquoise eye on the back on the instrument. You can watch a video on the creation of the instrument here.
Aside from his fascination with unique instruments, Andrew has been putting his creative talents toward finishing a new studio album. The disc is due March 2 of 2018 via Sony Music. You can look for Andrew W.K. also on tour with a full band on "The Party Never Dies" tour, which continues tonight in Texas. See all of his scheduled dates here.
Andrew W.K.'s ESP Taco Guitar
Most Anticipated Upcoming Hard Rock + Metal Albums of 2017
Get Tickets to the 2017 Loudwire Music Awards