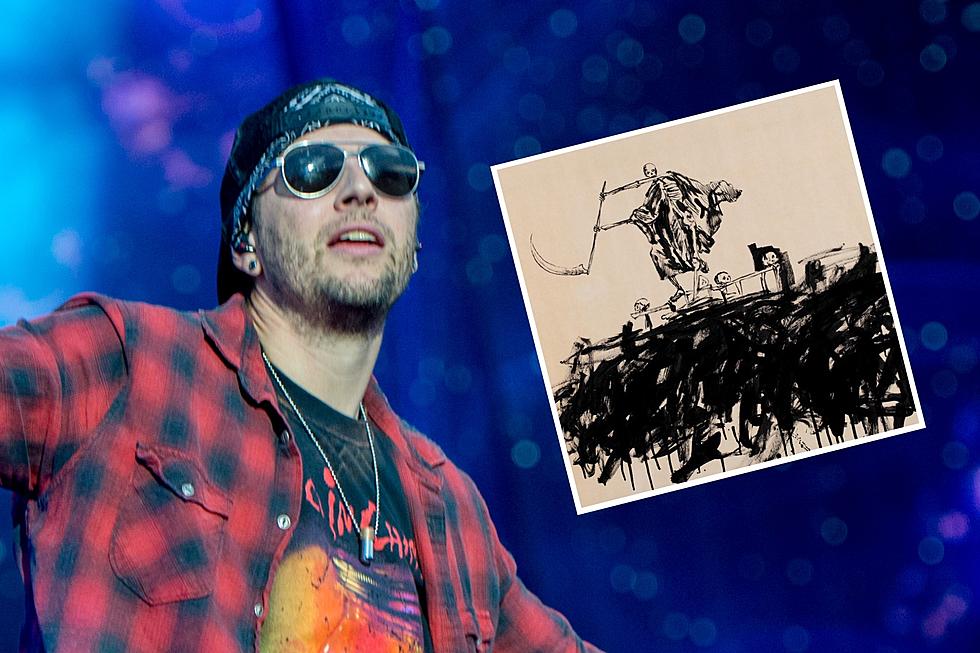 M. Shadows Explains Why It's Okay to Hate Avenged Sevenfold's New Album
Ollie Millington, Getty Images / WMG
Avenged Sevenfold's M. Shadows recently appeared on a podcast to discuss the initially polarized reception to the band's new album Life Is But a Dream…, saying, "It's okay to hate this record."
On the effort, the outfit's first studio LP in seven years, Avenged Sevenfold propel their sound to both brutal and symphonic new heights. On the June 26 podcast, Shadows says there's "no right or wrong answer" to listeners' feelings about it.
"It's not really our job to figure that out," the lead singer opines. "It's just our job to put something out that we totally back and we appreciate."
READ MORE: Metal Fan Mom Takes 10-Month-Old Baby to Heavy Metal Festival, See the Reactions
Watch a video near the bottom of this post.
Just how polarized is the reception to Life Is But a Dream…? "With our new record right now, all you see are 10-out-of-10 reviews and zero-out-of-10 reviews," Shadows tells Dean Delray's Let There Be Talk, according to a report from Blabbermouth.
The Avenged singer continues, "But it's the best way to be because the people that hate it, absolutely hate it. It's one of those things where, in 2023, having a zero out of 10 is actually better than anything you could ask for because people are talking. And it's a weird society we live in at this point."
Avenged Sevenfold New Album Hate
Shadows says all artists can do is "be a reflection of themselves at any point in time. There's nothing worse than when people are trying to put you in a box and want you to write the same music you wrote when you were in high school or 20 years old. Those were reflections of who we were back then."
And since then, every Avenged Sevenfold record has "kind of changed," the vocalist explains. "But this one in particular, [it's] much more musical in terms of not having … one foot fully in metal. It's got so many different eclectic influences that we've had our whole life that we never really were able to kind of quantify. … If you think about The Residents or Mr. Bungle — all these different things we were growing up listening to. And I think [that is] just where we're at right now. It's a different type of record."
Shadows adds, "The philosophy, all of it, is different. And so it's not going to appeal to people that want same thing. … It doesn't mean they're not going to get here. Maybe they're just not here right now. Maybe it's our job to put our arm around them and say, Hey, we're up the street at this bar. And let's hang out here. This is what we're doing now."
Under the video, find Avenged Sevenfold tour dates, followed by a list of bands touring in 2023. Get the Loudwire newsletter and Loudwire app.
Avenged Sevenfold Discuss Their Life Is But a Dream Album - June 26, 2023
Avenged Sevenfold 2023 Tour Dates
June 9 – Los Angeles, Calif. @ Kia Forum
June 23 – New York, N.Y. @ MSG
July 18 – Camden, N.J. @ Freedom Pav.
July 19 – Mansfield, Mass. @ Xfinity Ctr
July 21 – Quebec City, Quebec @ Videotron Ctr
July 22 – Montreal, Quebec @ Bell Ctr
July 24 – Ottawa, Ontario @ Canadian Tire Ctr
July 26 – Clarkston, Mich. @ Pine Knob Theatre
July 28 – Tinley Park, Ill. @ Hollywood Casino
July 29 – Minneapolis, Minn. @ Target Ctr
July 31 – Winnipeg, Manitoba @ Canada Life
Aug. 2 – Saskatoon, Saskatchewan @ SaskTel Ctr
Aug. 4 – Edmonton, Alberta @ Rogers Place
Aug. 5 – Calgary, Alberta @ Saddledome
Aug. 7 – Vancouver, British Columbia @ GM Place
Sept. 16 – W. Palm Beach, Fla. @ iTHINK Amp.
Sept. 17 – Tampa, Fla. @ MIDFLORIDA Amp.
Sept. 19 – Charlotte, N.C. @ PNC Pavilion
Sept. 20 – Alpharetta, Ga. @ Ameris Amp.
Sept. 22 – Nashville, Tenn. @ Bridgestone Arena
Sept. 23 – Louisville, Ky. @ Louder Than Life
Sept. 25 – St. Louis, Mo. @ Hollywood Casino
Sept. 26 – Kansas City, Mo. @ T-Mobile Ctr
Sept. 28 – Denver, Colo. @ Ball Arena
Sept. 30 – Salt Lake City, Utah @ USANA Amp.
Oct. 2 – Tacoma, Wash. @ Tacoma Dome
Oct. 3 – Portland, Ore. @ MODA Ctr
Oct. 5 – Sacramento, Calif. @ Aftershock
Oct. 7 – Chula Vista, Calif. @ North Island Amp.
Oct. 8 – Phoenix, Ariz. @ Talking Stick
Oct. 10 – Albuquerque, N.M. @ Isleta Amp.
Oct. 12 – Woodlands, Texas @ Mitchell Pavilion
Oct. 13 – Austin, Texas @ Germania Amp.
Oct. 15 – Fort Worth, Texas @ Dickies Arena
Your Guide to Rock + Metal Bands Touring in 2023
Check out over 200 rock and metal bands' touring schedules for 2023.