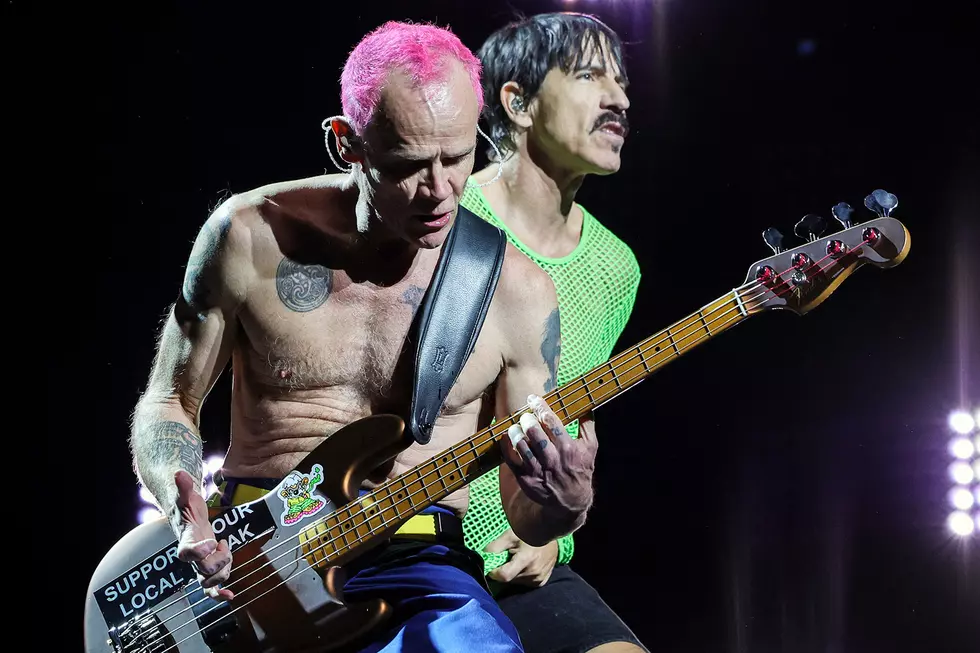 Anthony Kiedis Doesn't Think He's a Musician, Says Flea
Ethan Miller, Getty Images
Red Hot Chili Peppers bassist Flea said his bandmate Anthony Kiedis didn't think of himself as a musician, and their discussion about it reduced them both to tears.
Kiedis was one of the guests on Flea's podcast series This Little Light, which aims to explore artists' approaches and goals regarding the art they make.
Asked by the Los Angeles Times to choose his favorite interview from the series, Flea said, "A really good one was with Anthony. We were both kind of in tears because I'd never talked to him about stuff like that. Anthony doesn't really consider himself a musician or that he's had any music education whatsoever. He used to say we should change the band's name to Idiot and the Three Geniuses.
"And people would be down on him, you know? Eddie Vedder's up there like fucking Pavarotti, but the resonance is different with Anthony."
Asked if he thought Kiedis was a good singer, Flea responded, "I think he's a great singer. And he's always learning and getting better. When we started the band, he couldn't sing a note – he just yelled. Now he's got melodies, and he doesn't even stick to them. He flows around and improvises.
"Look, I know who the great singers are: Kurt Cobain, Jim Morrison, Roger Daltrey. But for me, all I care about with any musician is that a person sounds like themselves. And nobody sounds like Anthony Kiedis."
Flea said he went into the process of interviewing with an understanding of how to do it well. "There's nothing worse than being interviewed by someone with an agenda," he said, speaking from experience. "You can feel it right away. Or someone with just a list of questions. 'What's your favorite color?' 'I like blue because it reminds me of eggs.' Then the next question is, 'Do you like eggs?' 'I just told you I do!'"
Red Hot Chili Peppers Albums Ranked
Funk rockers have delivered some timeless classics ... and a couple of forgettable releases, too.